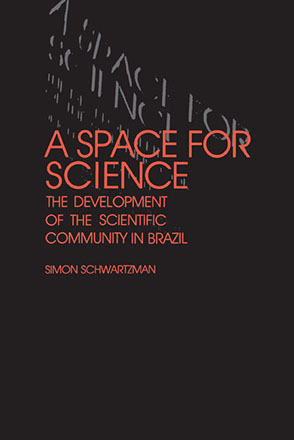 A Space for Science
The Development of the Scientific Community in Brazil
Simon Schwartzman
Buy
A Space for Science
The Development of the Scientific Community in Brazil
Simon Schwartzman
"No book exists in English that deals with this material in such depth, especially for the more modern period. . . . An interesting contribution to the institutional and sociological analysis of science outside of the 'mainstream' countries."
Description

Reviews

Bio

Subjects
A Space for Science
is a new version of
Formação da Comunidade Cientifica no Brasil
(published only in Portuguese in 1979 and now out of print), which became a standard reference for studies of the development of scientific traditions and competence in Brazil and, by extension, for other developing countries. Based on dozens of interviews with several generations of Brazilian scientists, it offers a wealth of information and insight about the motivations, attitudes, values, and perceptions of the scientists who, working in this kind of environment, face challenges and endure frustrations not known to their colleagues in wealthier industrialized countries.
The book focuses on the development of natural sciences in Brazil from the nineteenth century, with emphasis on the cultural, institutional, and social contexts that facilitated or hindered their growth and institutionalization, and offers an analysis of their current predicaments. It also provides an account of the importance to Brazil of foreign-trained scientists and foreign models of research and higher education.
This new English version contains background information on Brazilian society and politics, a new introduction, and two new chapters on most recent developments. These changes, along with substantial revisions to the text, make this a new book even for the Brazilian reader.
"No book exists in English that deals with this material in such depth, especially for the more modern period. . . . An interesting contribution to the institutional and sociological analysis of science outside of the 'mainstream' countries."
Simon Schwartzman is Professor of Political Science at the Universidade de São Paulo and Scientific Director of Núcleo de Pesquisas sobre Ensino Superior (NUPES).