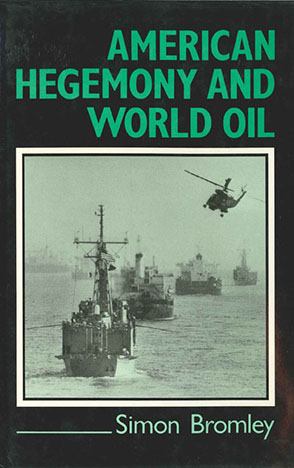 American Hegemony and World Oil
The Industry, the State System, and the World Economy
Simon Bromley
Buy
American Hegemony and World Oil
The Industry, the State System, and the World Economy
Simon Bromley
"Simon Bromley has written a major contribution to current debates on the nature of power in the international system. Through his analysis of the continuing US domination of the world oil industry. Bromley dispels two myths—the purported loss of US hegemony, and the realist conception of states. This book, drawing on a wide reading of social science literature, will be a must for students of international relations and of international political economy."
Description

Reviews

Bio

Subjects
This volume provides a new theoretical framework for understanding both the development of the international oil industry and the role played by oil in the emergence of US postwar hegemony. As such, it directly addresses contemporary developments in international relations theory and the recent debates over the character and longevity of United States hegemony.
While providing a narrative account of the oil industry from its origins in the nineteenth century through to the present, the main focus of American Hegemony and World Oil is an analytic treatment of the postwar period. Drawing widely on political economy, international relations and the recent literature on the state, the book offers a comprehensive study of the connections between United States hegemony and the international oil industry. The book begins with a critical discussion of theoretical approaches in political economy, international relations, and state theory which have informed discussions of the oil industry. Bromley goes on to survey the early emergence of the industry and its interwar consolidation, the ordering of the postwar industry under United States leadership, and the crisis of the 1970s. The book ends with an examination of the post-OPEC restructuring and the current strategies of the US, Japan, Europe, OPEC and the USSR.
This book will be of interest to students of political economy, international relations, and political sociology.
"Simon Bromley has written a major contribution to current debates on the nature of power in the international system. Through his analysis of the continuing US domination of the world oil industry. Bromley dispels two myths—the purported loss of US hegemony, and the realist conception of states. This book, drawing on a wide reading of social science literature, will be a must for students of international relations and of international political economy."
Simon Bromley teaches with the Open University and at Sheffield City Polytechnic. He is co-author of Thatcherism (with Kevin Bonnet, Bob Jessop, and Tom Ling).