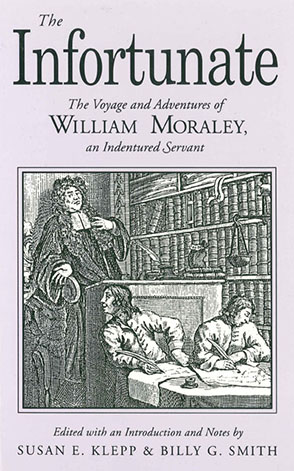 The Infortunate
The Voyage and Adventures of William Moraley, an Indentured Servant
Edited by Susan E. Klepp, and Edited by Billy G. Smith
The Infortunate
The Voyage and Adventures of William Moraley, an Indentured Servant
Edited by Susan E. Klepp, and Edited by Billy G. Smith
"Those of us who have too long savored the autobiography of Benjamin Franklin as being an account of a typical poor man's rise to wealth and power in the new United States will welcome this account of the more usual fate of a common ordinary person in Colonial and Federal America. . . . Filled with half-truths and whole lies, it nevertheless is a valuable—almost priceless—document about life in the early U.S. The editors have provided all kinds of explanatory information in notes and appendices, making this volume indispensable for all people interested in ordinary life in early America."
Description

Reviews

Bio

Table of Contents

Sample Chapters

Subjects
William Moraley's autobiography, originally published in 1743, provides a rare view of life among the lower classes in England and the American middle colonies during the early eighteenth century. In 1729, Moraley ventured as an indentured servant from England to the "American Plantations," where he worked in various jobs, rambled about the countryside, and mingled with white and black bonds people, laborers, artisans, Indians, and other common folk. His account brims over with observations about the geography and climate, the flora and fauna, and the customs, politics, religions, superstitions, material conditions, and daily lives of the inhabitants of New Jersey, Pennsylvania, and New York. Of special interest are his comments about servants, slaves, and Native Americans—groups frequently ignored by early travelers. Moraley's experiences were similar to those of many other eighteenth-century European immigrants who sold themselves into servitude, but he is among only a handful of people at the bottom of society who left memoirs of their lives.
Smart, sassy, and articulate, Moraley narrates a take of adventure designed primarily to entertain. At times a rogue, a drunkard, a liar, a vagabond, and a petty thief, he boasts that he could "rake with the best of them." But the autobiography has considerable historical value as well. It depicts the life of a down-and-out artisan whose fortunes, like so many other bound laborers, did not substantially improve. The reasons for the different career paths of such working people have been the subject of much scholarly debate, and these memoirs can more firmly ground that controversy in actual human experience.
The substantial introduction by Klepp and Smith reconstructs Moraley's life, relates the autobiography to the literary developments of the era, compares the careers of Moraley and Franklin, and discusses the author's social, political, and religious worlds. It also identifies and leaves open to differing interpretations a host of issues and paradoxes about eighteenth-century life raised by Moraley's account.
"Those of us who have too long savored the autobiography of Benjamin Franklin as being an account of a typical poor man's rise to wealth and power in the new United States will welcome this account of the more usual fate of a common ordinary person in Colonial and Federal America. . . . Filled with half-truths and whole lies, it nevertheless is a valuable—almost priceless—document about life in the early U.S. The editors have provided all kinds of explanatory information in notes and appendices, making this volume indispensable for all people interested in ordinary life in early America."
"The memoir effectually marks a key moment in the Anglo-American past. Editors Klepp and Smith have done scholars and students alike a very useful service by making this remarkably provocative tale readily available for those of us who wish to examine English and Anglo-American culture."
"Klepp and Smith have provided readers with a valuable glimpse of how those on the margins struggled, however in vain, in the best poor man's country."
Susan E. Klepp is Associate Professor of History at Rider College and author of The "Swift Progress of Population": A Documentary and Bibliographic Study of Philadelphia's Growth, 1642–1859 (1991).
Billy G. Smith is Professor of History at Montana State University and the author of The "Lower Sort": Philadelphia's Laboring People, 1750–1800 (1990).
CONTENTS
List of Illustrations
Editor's Preface to the Second Edition
Editor's Preface to the First Edition
Abbreviations
Editors' Introduction
THE INFORTUNATE: OR, THE VOYAGE AND ADVENTURES OF WILLIAM MORALEY
The Preface
1. Moraley and his family.
The Infortunate learns Latin and arithmetic.
Bound to an attorney. Becomes a watchmaker.
The South Sea Bubble. His mother settles in Newcastle. Reduced to poverty. Sells himself for a term of years into the American plantations. Before the Lord Mayor of London. Repenting too late. Calling at Calais. A recognition.
2. The story of Sir George Sonds's two sons.
3. Life on board ship.
Stinted rations.
Dolphins and flying fish.
Land at last.
In the market.
Sold as a slave.
"A Quaker, but a Wet one."
"The Athens of Mankind."
Germantown.
4. The fortunate Andalousian
5. Burlington.
Churches and missionaries.
Quaker meetings.
The Mayor of Philadelphia.
Rescuing a lady.
An Exchange of wint.
A Negro's ghos.
The Delaware River.
Perriwig Island.
An enormous skeleton.
Antediluvian remains.
6. Plantations in Pennsylvania.
Indian corn.
"The best poor Man's Country in the World."
Wild beasts.
Rattle snakes.
Horn snakes.
Humming birds.
Locusts.
Butterflies.
The Negroes.
Slave laws.
Bought servants.
7. The Indians in Pennsylvania.
Their habits, manners, and religion.
Colonial currency.
The governor and his Council.
The family of William Penn.
Charity of the Quakers.
Drinks.
Fish and fruit.
The climate.
"The Tennis-ball of Fortune."
8. End of servitude in Pennsylvania.
"A roving Tarter."
Courting adventure.
Trent Town and Burlington.
Encounter with a panther.
Detained for a runaway.
Journey to New York.
An Indian King.
The Governor of New York.
Pursued by creditors.
9. The Valentian; or, faithful Lover
10. Departure from New York.
Ducking witches at Mount Holly.
Loading ship.
Journey to Maryland.
Encounter with a horn snake.
Assists a mother and two children.
Danger from creditors.
Sets sail for Ireland.
The man with three wives.
11. Voyage to Ireland.
Dublin Harbour.
Arrives at Workingon.
"The picture of Robinson Crusoe."
"A Grave Quaker."
Merry making.
Nether Hall.
A tankard of supernaculum.
Mr. Senhouse's pleasantries.
Crosby.
12. Sir Richard Musgrave.
Haltwhistle.
Belated in a fell.
Corbridge, Wylam, etc. Arrives in Newcastle.
Postscript: The author's case, recommended to the Gentlemen of the law.
Appendixes
A. The Book and Its Author
B. Moraley Genealogy
C. The Wills of William Moraley's Parents
D. Moraley as a Literary Artisan
E. Newcastle, England
F. Isaac Pearson's Servants
G. The Ghost in Isaac Pearson's Home
H. The Witchcraft Trial at Mount Holly
Editors' Introduction
The comments and observations of European visitors have served as invaluable sources for our knowledge about early America. However, wealthy travelers left most accounts, and they frequently saw the New World through the windows of fancy carriages and formed their opinions in conversations with the colonial elite. William Moraley's memoir, first published in 1743, offers a decidedly different perspective.
William Moraley (1699–1762) was born in London in 1699 (listed as 1698 in the "old style" calendar). He was trained in the law, but saw his legal education interrupted by a financial crisis. His family moved to Newcastle upon Tyne in the 1720s, where he was apprenticed to his father, a watchmaker. It was not a happy relationship. Moraley was disowned, moved back to London, and was soon impoverished. He then ventured to the British American colonies in 1729 as an indentured servant, where he worked in various capacities, rambled about the countryside on foot, and mingled with white and black bondpeople, laborers, artisans, and other common folk, as well as prominent Indian and colonial figures. He returned to Newcastle and eventually wrote an account of his life and travels. While the very act of writing makes Moraley unusual, his experiences resembled those of many eighteenth-century European migrants, the majority of whom sold themselves into bondage to secure transport to North America.
Many journals, diaries, and letters by affluent early Americans survive, but autobiographies, wherein individuals reflect on the course and meaning of their lives, are rare. Benjamin Franklin's autobiography, written near the end of his exceptionally successful career, stands out as one of the few eighteenth-century American accounts. More extraordinary still are memoirs of people like Moraley who stood on the bottom rungs of American society and who, unlike Franklin, were unable to ascend the social and economic ladder.
Moraley's travels in North America form the central event in his autobiography, originally entitled The Infortunate: or, the Voyage and Adventures of William Moraley, of Moraley, in the County of Northumberland, Gent[leman,]From his Birth, to the Present Time. Containing Whatever is Curious and Remarkable in the Provinces of Pen[n]sylvania and New Jersey: an Account of the Laws and Customs of the Inhabitants; the Product, -Soil and Climate; also the Author's Several Adventures though Divers Parts of America, and His Surprising Return to Newcastle. To Which is Added His Case, Recommended to the Gentlemen of the Law. As the subtitle suggests, he designed the book both to inform and to entertain. He describes various exotic features of North America, both its land and its inhabitants, and narrates his life and escapades in the New World. He also includes three unrelated stories (in Chapters 2, 4, and 9), examples of the anecdotes he undoubtedly told to pass time on board ship, in a tavern, or to his customers while cleaning and repairing their clocks. The memoir concludes with a detailed justification for his behavior and his failures after returning to Newcastle upon Tyne, England.
The remainder of this Introduction provides information to help readers understand and interpret the memoir. It considers the characteristics of labor and migration in the world of William Moraley, the places he visited and the kinds of people he met, the transformation in the nature of families of which he was a part, the occupational groups to which he belonged, the intellectual developments that shaped his thinking, and the literary developments of the era within which he wrote the autobiography, as well as suggestions about how to approach the text.
Mailing List
Subscribe to our mailing list and be notified about new titles, journals and catalogs.