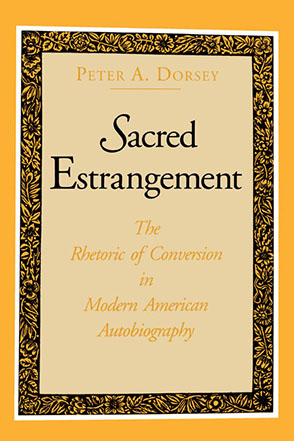 Sacred Estrangement
The Rhetoric of Conversion in Modern American Autobiography
Peter A. Dorsey
Buy
Sacred Estrangement
The Rhetoric of Conversion in Modern American Autobiography
Peter A. Dorsey
"Sacred Estrangement is an excellent study of the ways different autobiographers have found for adopting and adapting a tradition of Christian conversion narrative for their own secular purposes. It is a valuable and most welcome contribution to thought about the nature of the autobiographical act."
Description

Reviews

Bio

Subjects
Sacred Estrangement
analyzes certain works by important American writers and thinkers in the context of the "rhetoric of conversion." Such analysis is especially valuable because it provides a reliable index of the relationship between the self and larger communities. Traditionally, "conversion" has served a socializing function, signifying that one has come into alignment with certain linguistic, behavioral, and cultural expectations. The socialization process is particularly apparent in the Christian conversion narratives of the seventeenth through nineteenth centuries: by publicly testifying to a conversion experience, believers became empowered members, not only of God's elect community but also of a local population.
As modern autobiography developed in the eighteenth and nineteenth centuries, the Christian pattern was secularized and individualized. Conversion became a model for many kinds of psychological change. With the coming of the twentieth century, however, the authors upon whom Peter Dorsey focuses, including William and Henry James, Henry Adams, Edith Wharton, Ellen Glasgow, Zora Neale Hurston, and Richard Wright, radically revised conversion rhetoric. If conversion had traditionally linked the search for illumination with the search for a defined social role, these writers increasingly used conversion as an index of estrangement from mainstream America.
Dorsey documents this profound change in the way American intellectuals defined the "self," not in terms of personal orientation toward or away from a given community, but as a resistance to such an orientation altogether, as if social forces by their "nature" were a threat to personal identity.
"Sacred Estrangement is an excellent study of the ways different autobiographers have found for adopting and adapting a tradition of Christian conversion narrative for their own secular purposes. It is a valuable and most welcome contribution to thought about the nature of the autobiographical act."
Peter A. Dorsey is Assistant Professor of English at Mount Saint Mary's College in Emmitsburg, Maryland.