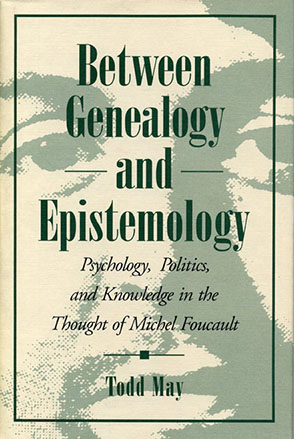 Between Genealogy and Epistemology
Psychology, Politics, and Knowledge in the Thought of Michel Foucault
Todd May
Buy
Between Genealogy and Epistemology
Psychology, Politics, and Knowledge in the Thought of Michel Foucault
Todd May
"May offers a clear and cogent response to the question which other philosophers have most often found troubling in Foucault's work: how can Foucault's genealogies of power/knowledge in the human sciences be justified?"
Description

Reviews

Bio

Subjects
Michel Foucault introduced a new form of political thinking and discourse. Rather than seeking to understand the grand unities of state, economy, or exploitation, he tried to discover the micropolitical workings of everyday life that have often founded the greater unities. He was particularly concerned with how we understand ourselves psychologically, and thus with how psychological knowledge developed and came to be accepted as true. In the course of his writings, he developed a genealogy of psychology, an account of psychology as a historically developed practice of power.
The problem such an account raises for much of traditional philosophy is that Foucault's critique of psychological concepts is ultimately a critique of the idea of the mind as a politically neutral ontological concept. As such, it renders politically suspect all forms of subjective foundationalism, and the epistemological justification for Foucault's own writings is then called into question. Drawing on the writings of such Anglo-American philosophers as Wilfrid Sellars and Ludwig Wittgenstein, Todd May refutes the idea that Foucault's critiques of knowledge, and especially psychological knowledge, undermine themselves.
"May offers a clear and cogent response to the question which other philosophers have most often found troubling in Foucault's work: how can Foucault's genealogies of power/knowledge in the human sciences be justified?"
"In spite of the immense industry of Foucault scholarship, Todd May has managed to write a very trim study that shows how Foucault avoids certain self-referential paradoxes almost always brought against him: in particular, the perils of relativism and the normalization of discourse. The result is notably uncluttered."
Todd May is Assistant Professor of Philosophy at Clemson University.