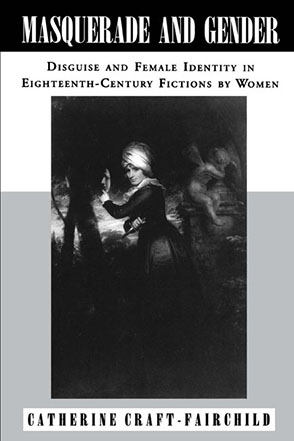 Masquerade and Gender
Disguise and Female Identity in Eighteenth-Century Fictions by Women
Catherine A. Craft-Fairchild
Buy
Masquerade and Gender
Disguise and Female Identity in Eighteenth-Century Fictions by Women
Catherine A. Craft-Fairchild
"An exceptionally well-written and fascinating study. This book should make an important contribution to the growing field of feminist work on the eighteenth century."
Description

Reviews

Bio

Subjects
Terry Castle's recent study of masquerade follows Bakhtin's analysis of the carnivalesque to conclude that, for women, masquerade offered exciting possibilities for social and sexual freedom. Castle's interpretation conforms to the fears expressed by male writers during the period—Addison, Steele, and Fielding all insisted that masquerade allowed women to usurp the privileges of men. Female authors, however, often mistrusted these claims, perceiving that masquerade's apparent freedoms were frequently nothing more than sophisticated forms of oppression.
Catherine Craft-Fairchild's work provides a useful corrective to Castle's treatment of masquerade. She argues that, in fictions by Aphra Behn, Mary Davys, Eliza Haywood, Elizabeth Inchbald, and Frances Burney, masquerade is double-sided. It is represented in some cases as a disempowering capitulation to patriarchal strictures that posit female subordination. Often within the same text, however, masquerade is also depicted as an empowering defiance of the dominant norms for female behavior. Heroines who attempt to separate themselves from the image of womanhood they consciously construct escape victimization. In both cases, masquerade is the condition of femininity: gender in the woman's novel is constructed rather than essential.
Craft-Fairchild examines the guises in which womanhood appears, analyzing the ways in which women writers both construct and deconstruct eighteenth-century cultural conceptions of femininity. She offers a careful and engaging textual analysis of both canonical and noncanonical eighteenth-century texts, thereby setting lesser-read fictions into a critical dialogue with more widely known novels. Detailed readings are informed throughout by the ideas of current feminist theorists, including Luce Irigaray, Julia Kristeva, Mary Ann Doane, and Kaja Silverman. Instead of assuming that fictions about women were based on biological fact, Craft-Fairchild stresses the opposite: the domestic novel itself constructs the domestic woman.
"An exceptionally well-written and fascinating study. This book should make an important contribution to the growing field of feminist work on the eighteenth century."
Catherine Craft-Fairchild is Assistant Professor of English at the University of St. Thomas in St. Paul, Minnesota.