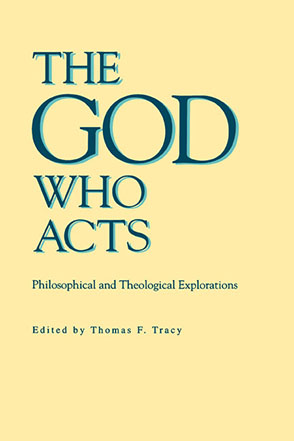 The God Who Acts
Philosophical and Theological Explorations
Edited by Thomas F. Tracy
BUY
The God Who Acts
Philosophical and Theological Explorations
Edited by Thomas F. Tracy
"

These essays make original contributions to the field; and they are of first-class quality. They are also lucid; junior and senior undergraduates can read them.

"
Description

Reviews

Bio

Table of Contents

Subjects
The affirmation that God acts in history has roots deep within the religious traditions of the West. The God depicted in biblical narrative is by no means a detached spectator, unconcerned with the course of events in the world. Rather, God engages human beings in and through their history, shaping the destinies of individuals and communities.
While this way of thinking about God has profoundly shaped the theological imagination of the biblical religions, it has become a source of persistent puzzlement in modern theology. The rise of the natural sciences has demonstrated the power of understanding our world as governed by natural law, and this poses difficult questions about how God can be understood to act in a such a world. Furthermore, a compelling set of religious and ethical objections can be urged against the idea that God performs particular actions in history; the problem of evil arises here with great force. This book brings together a group of well-known philosophers and theologians for a sharply focused exchange on these crucial questions about the God who acts.
"

These essays make original contributions to the field; and they are of first-class quality. They are also lucid; junior and senior undergraduates can read them.

"
Thomas F. Tracy is Professor of Religion at Bates College and author of God, Action, and Embodiment (1984).
Contents
Acknowledgments
Contributors
Introduction/Thomas F. Tracy
Part I Particular Divine Action: Providence and the Problem of Evil
1. Divine Action: Some Moral Considerations/ Maurice Wiles
Response 1. Theodicy and Divine Intervention/ Robert Merrihew Adams
2. Divine Action: Shadow or Substance?/ William P. Alston
Response 2. Alternative Conceptions of God/ James M. Gustafson
Part II Universal Divine Action: Creation, Human Freedom,and Sin
3. Divine Action, Created Causes, and Human Freedom/ Thomas F. Tracy
Response 3. Divine Action and Human Freedom in the Context of Creation/ David B. Burrell, C.S.C.
4. Human Freedom, Human Sin, and God the Creator/ Kathryn E. Tanner
Response 4. God the Creator of Good and Evil?/ William Hasker
Index