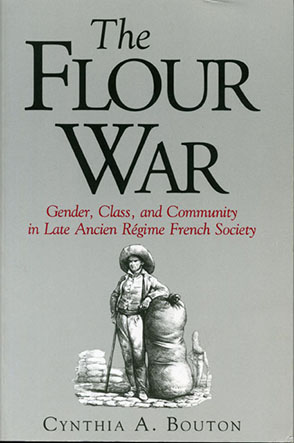 The Flour War
Gender, Class, and Community in Late Ancien Régime French Society
Cynthia Bouton
BUY
The Flour War
Gender, Class, and Community in Late Ancien Régime French Society
Cynthia Bouton
"Bouton is to be congratulated for producing an enterprising and imaginative rereading of a seminal moment in the history of French popular protest."
Description

Reviews

Bio

Subjects
In the spring of 1775, a series of food riots shook the villages and countryside around Paris. For decades France had been free of famine, but the fall grain harvest had been meager, and the government of the newly crowned King Louis XVI had issued an untimely edict allowing the free commerce of grain within the kingdom. Prices skyrocketed, causing riots to break out in April, first in the market town of Beaumont-sur-Oise, then sweeping through the Paris Basin for the next three weeks. Known as the Flour War, or the
guerre des farines
, these riots are the subject of Cynthia Bouton's fascinating study.
Building upon French historian George Rudé's pioneering work, Bouton identifies communities of participants and victims in the Flour War, analyzing them according to class, occupation, gender, and location. As typically happened, crowds of common people (menu peuple) confronted those who controlled the grain-bakers, merchants, millers, cultivators, and local authorities. Bouton asks why women of the menu peuple were heavily represented in the riots, often assuming crucial roles as instigators and leaders. In most instances, the people did not steal the provisions but forced those they cornered to sell at a price the rioters deemed "just." Bouton examines this phenomenon, known as taxation populaire, and considers the growing "sophistication of purpose" of rioters by placing the Flour War within the larger context of food riots in early modern Europe.
"Bouton is to be congratulated for producing an enterprising and imaginative rereading of a seminal moment in the history of French popular protest."
"A principal merit of this lucidly written, intelligently argued study is that it focuses our attention on community politics in pre-revolutionary France. Cynthia Bouton shows how, during a period of political and economic crisis, rioters formulated and satisfied their demands for food at fair prices. At the same time, they redefined community boundaries and allegiances and renegotiated community power relations, while reshaping individual and collective consciousness in the process."
Cynthia A. Bouton is Associate Professor of History at Texas A&M University.