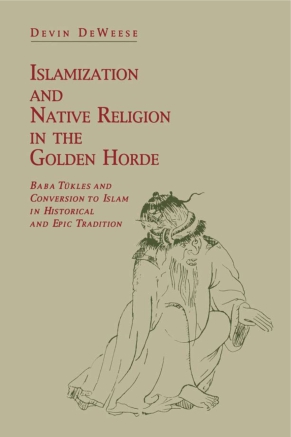 Islamization and Native Religion in the Golden Horde
Baba Tükles and Conversion to Islam in Historical and Epic Tradition
Devin DeWeese
Buy
Islamization and Native Religion in the Golden Horde
Baba Tükles and Conversion to Islam in Historical and Epic Tradition
Devin DeWeese
"This is a whale of a book, not only because of its size. Its geographical and chronological scope are vast, and it combines great philological skill with considerable conceptual sophistication. . . . This is a profound and important book whose arguments and conclusions are on the whole convincing. This is truly a groundbreaking study and as such can be recommended to a wide audience."
Media

Description

Reviews

Bio

Subjects
Winner of the 1995 Albert Hourani Book Award from the Middle East Studies Association and the 1995 Best First Book in the History of Religions from the American Academy of Religion
This book is the first substantial study of Islamization in any part of Inner Asia from any perspective and the first to emphasize conversion narratives as important sources for understanding the dynamics of Islamization. Challenging the prevailing notions of the nature of Islam in Inner Asia, it explores how conversion to Islam was woven together with indigenous Inner Asian religious values and thereby incorporated as a central and defining element in popular discourse about communal origins and identity. The book traces the many echoes of a single conversion narrative through six centuries, the previously unknown recounting of the dramatic "contest" in which the khan Özbek adopted Islam at the behest of a Sufi saint named Baba Tükles.
DeWeese provides the English-language translation of this and another text as well as translations and analyses of a wide range of passages from historical sources and epic and folkloric materials. Not only does this study deepen our understanding of the peoples of Central Asia, involved in so much turmoil today, but it also provides a model for other scholars to emulate in looking at the process of Islamization and communal religious conversion in general as it occurred elsewhere in the world.
"This is a whale of a book, not only because of its size. Its geographical and chronological scope are vast, and it combines great philological skill with considerable conceptual sophistication. . . . This is a profound and important book whose arguments and conclusions are on the whole convincing. This is truly a groundbreaking study and as such can be recommended to a wide audience."
"This is an epic book. With it, DeWeese has opened up whole new vistas onto the religious landscape of the Mongol empire and post–Chingizid Inner Asia. Charting territory almost entirely unknown to most students of Islamic history, and particularly those unfamiliar with Russian scholarship in this area, DeWeese pulls together material from a wide range of sources and disciplines, and in the process conjures up tempting paths to explore and many riches still to be unearthed."
"This is an original and distinctive contribution to the fields of history of religions, Central Asian studies, and Islamic studies. There are no comparable studies. It comes at a time when Central Asian studies after years of relative obscurity is now very much in the limelight. The issue of Islam and its relationship to ethnicity and nationalism is of central significance. DeWeese demonstrates a command of the body of relevant sources and in fact adds to it significantly. There is a mine of new information accompanied by a fine summary of the state of the art. The combination of the author's methodology, materials, and quality of analysis has produced a study that is distinctive in extending the frontiers of scholarship."
Devin DeWeese is Associate Professor of Central Eurasian Studies and Assistant Director of the Research Institute for Inner Asian Studies at Indiana University.