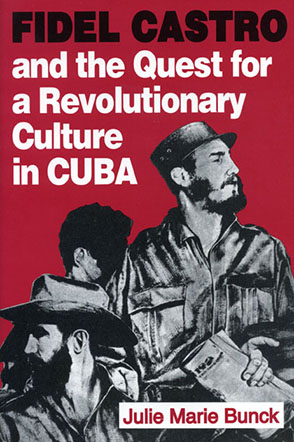 Fidel Castro and the Quest for a Revolutionary Culture in Cuba
Julie Marie Bunck
Buy
Fidel Castro and the Quest for a Revolutionary Culture in Cuba
Julie Marie Bunck
"Julie Marie Bunck provides us with an overdue, critical accounting of more than three decades of failed, costly social experimentation by the Castro regime. She shows why the regime failed in the pursuit of its elusive goals of achieving radical cultural change because of the resiliency of traditional Cuban culture and mores. She documents how the regime was obliged to alter its policies by moving from moral to material incentives, and by increasing its totalitarian controls over society."
Description

Reviews

Bio

Subjects
Beginning with an overview of the Castro regime's program to transform Cuban culture as guided by the tenets of Marxist-Leninist ideology, Julie Bunck first outlines in a broad way the four phases through which the regime's strategy evolved, from 1959 to the present, with a variety of methods tried—noncoercive, indirectly coercive, and directly coercive. The four main chapters then each focus on one of the principal targets at which the regime aimed in trying to change popular attitudes: youth, women, labor, and sports. The last chapter offers an overall assessment and explanation of the regime's few successes and many failures, suggesting lessons from Cuba's experience that help account for the collapse of communist regimes elsewhere in the world that foundered on the resistance of traditional culture to revolutionary change.
"Julie Marie Bunck provides us with an overdue, critical accounting of more than three decades of failed, costly social experimentation by the Castro regime. She shows why the regime failed in the pursuit of its elusive goals of achieving radical cultural change because of the resiliency of traditional Cuban culture and mores. She documents how the regime was obliged to alter its policies by moving from moral to material incentives, and by increasing its totalitarian controls over society."
"Bunck's work is the best attempt to understand not just Fidel Castro's hopes for the transformation of Cuba's culture but also the extent to which those hopes ever became reality."
Julie Marie Bunck teaches Latin American politics and international relations at the University of Pennsylvania and George Washington University.