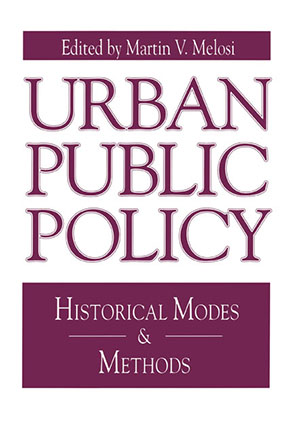 Urban Public Policy
Historical Modes and Methods
Edited by Martin A. Melosi
Buy
Urban Public Policy
Historical Modes and Methods
Edited by Martin A. Melosi
"The essays in Urban Public Policy cover a diverse range of historical issues in some depth, augmented by a rich set of sources and annotations and an excellent bibliographic essay by Melosi."
Description

Reviews

Bio

Table of Contents

Subjects
The 1992 Los Angeles riots catapulted the problems of the city back onto the policy agenda. The cauldron of social problems of the city, as the riots showed, offers no simple solutions. Indeed, urban policy includes a range of policy issues involving welfare, housing, job training, education, drug control, and the environment. The myriad of local, state, and federal agencies only further complicates formulating and implementing coherent policies for the city. This volume, while not offering specific proposals to remedy the problems of the city, provides a broad historical context for discussing contemporary urban policy and for arriving at new prescriptions for relieving the ills of the American city. The essays address issues related to public housing, poverty, transportation, and the environment. In doing so, the authors discuss larger themes in urban policy as well as provide case studies of how policies have been implemented over time in specific cities. Of particular interest are two essays that discuss the role of the historian in shaping urban policy and the importance of historical preservation in urban planning.
"The essays in Urban Public Policy cover a diverse range of historical issues in some depth, augmented by a rich set of sources and annotations and an excellent bibliographic essay by Melosi."
Martin A. Melosi is Professor of History and Director of the Institute for Public Policy at the University of Houston.
Contents
Editor's Preface
Martin V. Melosi/Introduction
1. Carl Abbott/Five Downtown Strategies: Policy Discourse and Downtown Planning Since 1945
2. Paul George Lewis/Housing and American Privatism: The Origins and Evolution of Subsidized Home-Ownership Policy
3. Noel A. Cazenave/Chicago Influences on the War on Poverty
4. Sy Adler/The Evolution of Federal Transit Policy
5. Martin V. Melosi/Down in the Dumps: Is There a Garbage Crisis in America?
6. Harold L. Platt/World War I and the Birth of American Regionalism
7. Alan Mayne/City as Artifact: Heritage Preservation in Comparative Perspective
8. Seymore J. Mandelbaum/Reading Old Plans
Martin V. Melosi/Bibliographical Essay
Contributors