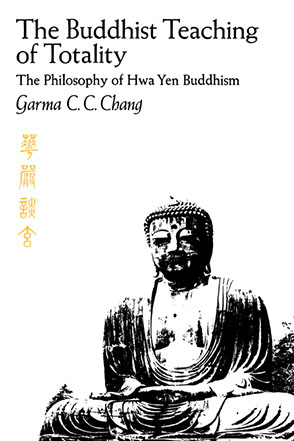 The Buddhist Teaching of Totality
The Philosophy of Hwa Yen Buddhism
Garma C.C. Chang
Buy
The Buddhist Teaching of Totality
The Philosophy of Hwa Yen Buddhism
Garma C.C. Chang
"That The Buddhist Teaching of Totality is a unique and long-needed contribution to Buddhological literature in English cannot be denied. Not only is it one of the very few introductions to a school of Chinese Buddhism other than Ch'an, it is one of the few attempts in any language to present systematically the essential features of the Flower (Hwa Yen) Garland School, perhaps the most philosophical sophisticated example of Buddhist syncretism ever to be produced."
Description

Reviews

Bio

Subjects
The Hwa Yen school of Mahāyāna Buddhism bloomed in China in the 7th and 8th centuries A.D. Today many scholars regard its doctrines of Emptiness, Totality, and Mind-Only as the crown of Buddhist thought and as a useful and unique philosophical system and explanation of man, world, and life as intuitively experienced in Zen practice.
For the first time in any Western language Garma Chang explains and exemplifies these doctrines with references to both oriental masters and Western philosophers. The Buddha's mystical experience of infinity and totality provides the framework for this objective revelation of the three pervasive and interlocking concepts upon which any study of Mahāyāna philosophy must depend.
Following an introductory section describing the essential differences between Judeo-Christian and Buddhist philosophy, Professor Chang provides an extensive, expertly developed section on the philosophical foundations of Hwa Yen Buddhism dealing with the core concept of True Voidness, the philosophy of Totality, and the doctrine of Mind-Only. A concluding section includes selections of Hwa Yen readings and biographies of the patriarchs, as well as a glossary and list of Chinese terms.
"That The Buddhist Teaching of Totality is a unique and long-needed contribution to Buddhological literature in English cannot be denied. Not only is it one of the very few introductions to a school of Chinese Buddhism other than Ch'an, it is one of the few attempts in any language to present systematically the essential features of the Flower (Hwa Yen) Garland School, perhaps the most philosophical sophisticated example of Buddhist syncretism ever to be produced."
"Chang's style is easy and concise, enjoyable, and stimulating. . . . This would be a useful book for any college or university library. Highly recommended."
"[This] is indeed a most welcome addition to the literature on the most comprehensive and most profound branch of Chinese Buddhism, the Hwa Yen School. . . . [It is] a work of real and present value."
"The Western student of Buddhism should be grateful for this first full-length treatment in English of an important and interesting school of Buddhist thought."
"This book is highly recommended to advanced students of Buddhism and to Westerners whose interests in Buddhism incline toward the metaphysical and phenomenological."
Renowned for his English translation of The 100,000 Songs of Milarepa, Garma Chen-Chi Chang was also the author of The Practice of Zen and The Teachings of Tibetan Yoga, and the editor and translator of A Treasury of Mahāyāna Sūtras. At the time of his death in 1988, Dr. Chang was Professor Emeritus of Religious Studies at The Pennsylvania State University.