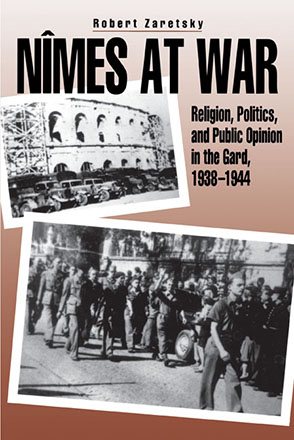 Nîmes at War
Religion, Politics, and Public Opinion in the Gard, 1938–1944
Robert Zaretsky
Buy
Nîmes at War
Religion, Politics, and Public Opinion in the Gard, 1938–1944
Robert Zaretsky
"In this highly interesting book, Robert Zaretsky describes how French men and women in the department of the Gard lived the Vichy regime from day to day. It will be most useful to historians of France, but it will also be welcomed by scholars who deal with the Second World War, the history of the Jews, and the history of religion. It might well be used in undergraduate classes as a case study for popular opinion in modern France."
Media

Description

Reviews

Bio

Subjects
Winner of the 1997 Hans Rosenhaupt Memorial Book Award from the Woodrow Wilson National Fellowship Foundation
"Vichy will not go away. As I write, France is in the throes of the Paul Touvier affair. . . . The Touvier affair is just the most recent expression of what Henry Rousso has called the Vichy syndrome." So begins Robert Zaretsky's timely study of everyday life in France during the "dark years" of Vichy. While many studies of Vichy France have either focused on specific lives or ideas or covered the period in broad and synthetic terms, local studies such as this promise to nuance our understanding of wartime France. By concentrating on the city of Nîmes and the department of the Gard, Zaretsky moves beyond generalizations concerning resistance and collaboration to consider issues of historical continuity and change within a specific local context. In the words and acts of local French men and women, he finds the character of "mentalities" in the heart of our own century.
The Gard is well chosen as the focus of this study. From the sixteenth century onward, the region had been a flash point between warring Catholics and Protestants. By the early twentieth century, that tension had eased but not disappeared. Zaretsky examines the dynamics between local Protestant, Catholic, and Jewish communities, arguing that with the advent of Vichy—a regime that, if not clerical, was deeply deferential to the Catholic Church—tension and conflict resurfaced in the Gard. Nîmes at War is based on a wealth of archival materials—police and prefectoral reports, official departmental documents, local secular and religious newspapers, and letters intercepted by the regime's security apparatus—much of which has only recently been opened to researchers. Zaretsky's detailed narrative will undoubtedly provoke further reconsideration of the complex and ambiguous world of Vichy.
"In this highly interesting book, Robert Zaretsky describes how French men and women in the department of the Gard lived the Vichy regime from day to day. It will be most useful to historians of France, but it will also be welcomed by scholars who deal with the Second World War, the history of the Jews, and the history of religion. It might well be used in undergraduate classes as a case study for popular opinion in modern France."
Robert Zaretsky teaches in the Honors College of the University of Houston.