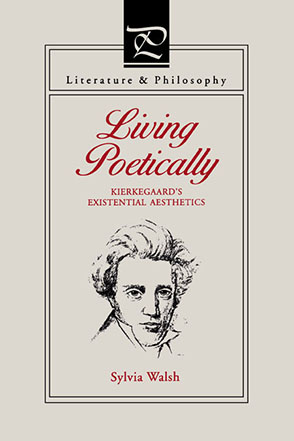 Living Poetically
Kierkegaard's Existential Aesthetics
Sylvia Walsh
Buy
Living Poetically
Kierkegaard's Existential Aesthetics
Sylvia Walsh
"Living Poetically addresses the debate over Kierkegaard and aesthetics with impressive authority. Walsh demonstrates that contemporary postmodern efforts to idealize the aesthetic in abstraction from the ethical and the religious are no more responsible than older voices that viewed the aesthetic with little more than suspicion. She argues that Kierkegaard embraces all three, for life is really complete only when paradoxical faith and ethical freedom are both infused with poetic richness."
Description

Reviews

Bio

Subjects
Living Poetically
is the first book to focus primarily on Kierkegaard's existential aesthetics as opposed to traditional aesthetic features of his writings such as the use of pseudonyms, literary techniques and figures, and literary criticism.
Living Poetically
traces the development of the concept of the poetic in Kierkegaard's writings as that concept is worked out in an ethical-religious perspective in contrast to the aesthetics of early German romanticism and Hegelian idealism. Sylvia Walsh seeks to elucidate what it means, in Kierkegaard's view, to be an authentic poet in the form of a poetic writer and to clarify his own role as a Christian poet and writer as he understood it. Walsh shows that, in spite of strong criticisms made of the poetic in some of his writings, Kierkegaard maintained a fundamentally positive understanding of the poetic as an essential ingredient in ethical and religious forms of life. Walsh thus reclaims Kierkegaard as a poetic thinker and writer from those who would interpret him as an ironic practitioner of an aestheticism devoid of and detached from the ethical-religious as well as from those who view him as rejecting the poetic and aesthetic on ethical or religious grounds.
Viewing contemporary postmodern feminism and deconstruction as advocating a romantic mode of living poetically, Walsh concludes with a feminist reading of Kierkegaard that affirms both individuality and relatedness, commonalities and differences between the self and others, men and women, for the fashioning of an authentic mode of living poetically in the present age.
"Living Poetically addresses the debate over Kierkegaard and aesthetics with impressive authority. Walsh demonstrates that contemporary postmodern efforts to idealize the aesthetic in abstraction from the ethical and the religious are no more responsible than older voices that viewed the aesthetic with little more than suspicion. She argues that Kierkegaard embraces all three, for life is really complete only when paradoxical faith and ethical freedom are both infused with poetic richness."
"Living Poetically is a magnificent piece of work on a very important theme. The concepts of the aesthetic and the poetic in Kierkegaard have been much neglected, so this is a book that will make a real contribution; it will immediately become the standard work on this subject and will probably remain so for a long time to come. Walsh has an absolute mastery of the Kierkegaardian corpus and a truly impressive command of the secondary literature, yet she wears this learning lightly. In addition to the intrinsic interest of the themes treated, the contemporary relevance of the book is greatly enhanced by the running polemic with some French feminists who have allied feminism with postmodernism. Though Walsh is certainly a feminist herself, and though she clearly scores Kierkegaard for sexist claims, she argues that there is a deep affinity between this kind of postmodernist feminism and the romantic ironists who are the main targets of Kierkegaard's criticisms. The claim that Kierkegaard's criticisms of romantic ironists apply with force to some versions of contemporary postmodernism is certain to be controversial, but so far as I can see, the case Walsh makes is well done, and this is exactly the kind of critical discussion that postmodern thinkers need."
Sylvia Walsh is Adjunct Professor of Philosophy at Stetson University and has contributed to several volumes on Kierkegaard.
Mailing List
Subscribe to our mailing list and be notified about new titles, journals and catalogs.