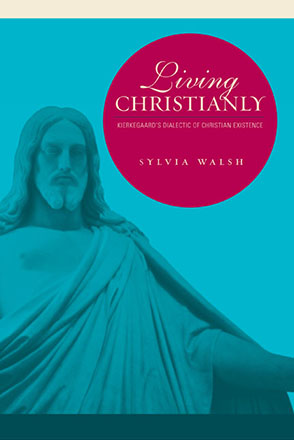 Living Christianly
Kierkegaard's Dialectic of Christian Existence
Sylvia Walsh
BUY
Living Christianly
Kierkegaard's Dialectic of Christian Existence
Sylvia Walsh
"In this book Sylvia Walsh gives a comprehensive interpretation of how Kierkegaard understands what it means to live as a Christian. She shows that Kierkegaard's 'second authorship' sees Christian existence as requiring an 'inverse dialectic' in which joy is attained through suffering, life through dying, and hope in God through despair of one's own capabilities. Walsh's work provides us with a powerful, unified account of Kierkegaard's later, Christian writings. No one who wishes to understand Kierkegaard can ignore this central dimension of his thought, and Walsh has given us the best and clearest account of it that we have."
Description

Reviews

Bio

Table of Contents

Sample Chapters

Subjects
The pseudonymous works Kierkegaard wrote during the period 1843–46 have been responsible for establishing his reputation as an important philosophical thinker, but for Kierkegaard himself, they were merely preparatory for what he saw as the primary task of his authorship: to elucidate the meaning of what it is to live as a Christian and thus to show his readers how they could become truly Christian. The more overtly religious and specifically Christian works Kierkegaard produced in the period 1847–51 were devoted to this task.
In this book Sylvia Walsh focuses on the writings of this later period and locates the key to Kierkegaard's understanding of Christianity in the "inverse dialectic" that is involved in "living Christianly." In the book's four main chapters, Walsh examines in detail how this inverse dialectic operates in the complementary relationship of the negative qualifications of Christian existence—sin, the possibility of offense, self-denial, and suffering—to the positive qualifications—faith, forgiveness, new life/love/hope, and joy and consolation. It was Kierkegaard's aim, she argues, "to bring the negative qualifications, which he believed had been virtually eliminated in Christendom, once again into view, to provide them with conceptual clarity, and to show their essential relation to, and necessity in, securing a correct understanding and expression of the positive qualifications of Christian existence."
"In this book Sylvia Walsh gives a comprehensive interpretation of how Kierkegaard understands what it means to live as a Christian. She shows that Kierkegaard's 'second authorship' sees Christian existence as requiring an 'inverse dialectic' in which joy is attained through suffering, life through dying, and hope in God through despair of one's own capabilities. Walsh's work provides us with a powerful, unified account of Kierkegaard's later, Christian writings. No one who wishes to understand Kierkegaard can ignore this central dimension of his thought, and Walsh has given us the best and clearest account of it that we have."
"Walsh writes clearly and with the assurance of one who is completely at home in the primary sources and is tried and tested in the cut and thrust of critical debates. . . . Walsh has undeniably opened up a rich field for English-language Kierkegaard study and it is to her credit if her work stimulates other and further studies."
"Walsh offers an exegesis of complex Kierkegaardian notions such as sin-consciousness, offense, self-denial, suffering, and faith. As Kierkegaard scholars and teachers of existential philosophy are well aware, these are quite difficult concepts and tasks to comprehend, and much more difficult to embody and live. Walsh succeeds in explaining and defending these ideas."
"Whether or not one will accept Kierkegaard's description of living Christianly is beside the point here, since Walsh succeeds in her task of drawing from Kierkegaard's journals and all the major works from the second period in order to give us a balanced, focused, and honest portrayal of Kierkegaard's thought and task."
Sylvia Walsh is Scholar in Residence at Stetson University. She is the author of Living Poetically: Kierkegaard's Existential Aesthetics (Penn State, 1994) and co-editor of Feminist Interpretations of Søren Kierkegaard (Penn State, 1997).
Contents
Acknowledgments
Sigla
Introduction
1. The Consciousness of Sin/Faith and Forgiveness
2. The Possibility of Offense/Faith
3. Dying to the World and Self-Denial/New Life, Love, and Hope in the Spirit
4. Suffering/Joy and Consolation
5. Christian Existence Within the Broader Dialectic of Christianity
Works Consulted
Index
Also of Interest
Mailing List
Subscribe to our mailing list and be notified about new titles, journals and catalogs.