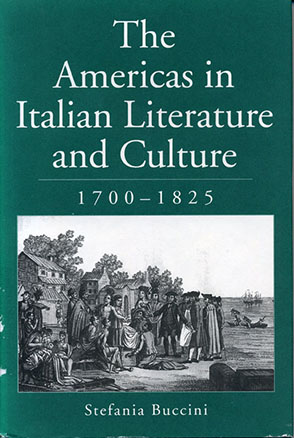 The Americas in Italian Literature and Culture, 1700–1825
Stefania Buccini
BUY
The Americas in Italian Literature and Culture, 1700–1825
Stefania Buccini
"This study of the idea of America in the eighteenth century is a remarkably mature book that deals with the great themes of history and utopia, with the 'imaginaire' without ever abandoning the guidance of philology."
Description

Reviews

Bio

Subjects
The curiosity with which Europeans approached the New World was reflected in the writings of Italian historians, missionaries, travelers, and explorers, who described with fascination the customs of the peoples they encountered in their travels. In this study Stefania Buccini examines the representation of the Americas in Italian literature during the Age of the Enlightenment.
She begins by analyzing the motivations and circumstances behind the emergence of the myth of the "noble savage." Eighteenth-century Italy had a strong orientation toward the more "advanced" American societies of the Incas and the Aztecs, and these pre-Columbian civilizations became the preferred myth, dissociated from any notion of wildness and easily compatible with illuministic canons of progress. However, a new America—revolutionary and democratic, animated by noble principles of liberty and equality—was soon formed, onto which the old Europe projected its dreams of renewal. As the New World came to be associated with the English colonies, Benjamin Franklin, scientist, writer of political and moral works, and founder of the new republic, gained the stature of an illuministic myth in Italy.Buccini finds that the myths of the old and new Americas meshed and created a more complex image of the New World for the Italians.
"This study of the idea of America in the eighteenth century is a remarkably mature book that deals with the great themes of history and utopia, with the 'imaginaire' without ever abandoning the guidance of philology."
"[A]n original contribution in a field already tilled by such prominent historians as Antonello Gerbi, Rosario Romeo, and Sergio Landucci."
"With her elegant, but firm and lucid prose, Buccini reconstructs this central intellectual debate of the Enlightenment. From Ludovico Antonio Muratori to Giambattista Vico, from Rousseau to Voltaire, from Goldoni to Pietro Chiari, the well-attained object of her exposition is to clarify the various, and at times, contradictory, terms of perception of the New World."
"Without a doubt an interesting book of discovery on all levels: discovery is its theme, but it also enabled me to discover areas of intellectual experience which were hitherto unknown to me."
Stefania Buccini is Associate Professor of Italian at the University of Wisconsin at Madison. She holds a Laurea in Letters from the Università di Napoli.