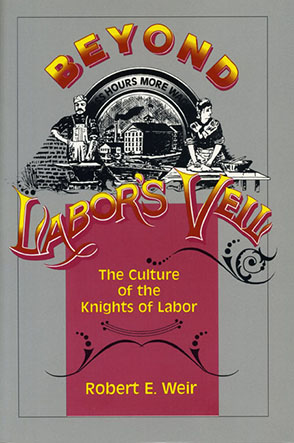 Beyond Labor's Veil
The Culture of the Knights of Labor
Robert E. Weir
Buy
Beyond Labor's Veil
The Culture of the Knights of Labor
Robert E. Weir
"This is a rich book, not only because it fills the need for a new comprehensive history of the Knights of Labor, but also because Robert Weir had given us a wealth of information about the Knights of Labor's role in the cultural morass called the Gilded Age. . . . Highly recommended for students of late nineteenth century American history. It is a stimulating work enhanced by attractive graphics and design, and by sound editing, which includes an excellent bibliography and the use of footnotes rather than endnotes."
Description

Reviews

Bio

Subjects
The Noble and Holy Order of the Knights of Labor was founded in 1869 as a secret fraternal order committed to the goal of uniting American labor. At its height in 1886, the Knights claimed the allegiance of perhaps a million workers.
Despite a host of local studies by the new labor historians of the 1970s and 1980s, there has been no general study of the Knights since Norman Ware's 1929 book, and no one has ever attempted a comprehensive study of the culture of the organization. In Beyond Labor's Veil, Robert E. Weir presents a fascinating cultural portrait of the Knights across regions, covering the years 1869 to 1893.
From the start, the Knights of Labor was an unusual organization, equal parts fraternal order and labor union. It was the only nineteenth-century labor organization to organize African Americans, women, and unskilled workers on an equal basis with white craftsmen. Weir goes beyond the rhetoric of public pronouncements and union politics to consider the real influence of the Knights—in communities and homes as well as in the workplace.
Weir explores the many cultural expressions of the Knights—ritual, religion, poetry, music, literature, material objects, graphics, and leisure. Although the Knights barely survived into the twentieth century, Weir concludes that the creative cultural expressions of the Knights enabled it to do as well as it did in the face of powerful oppositional forces. What emerges in Beyond Labor's Veil is a rich, detailed description of the Knights as its members adapted to the confusion and contradiction of America's Gilded Age.
"This is a rich book, not only because it fills the need for a new comprehensive history of the Knights of Labor, but also because Robert Weir had given us a wealth of information about the Knights of Labor's role in the cultural morass called the Gilded Age. . . . Highly recommended for students of late nineteenth century American history. It is a stimulating work enhanced by attractive graphics and design, and by sound editing, which includes an excellent bibliography and the use of footnotes rather than endnotes."
"This is a book we badly need. It should be an important influence in redirecting the attention of historians back to the Knights and the centrality of their culture to the formation of the nineteenth-century working class."
Robert E. Weir is Associate Professor of Liberal Arts at Bay Path College in Longmeadow, Massachusetts.