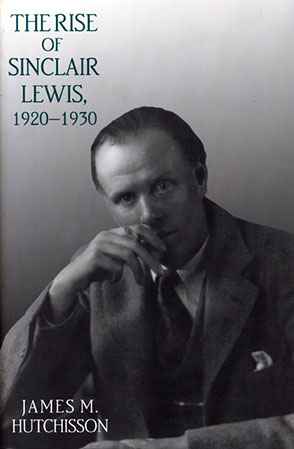 The Rise of Sinclair Lewis, 1920–1930
James M. Hutchisson
Buy
The Rise of Sinclair Lewis, 1920–1930
James M. Hutchisson
"In his study of Sinclair Lewis's most prepotent novels, James Hutchisson has swept away the cobwebs of neglect from the reputation of a great American writer, whose acute and indelible portraits of America—its towns, cities, and social topography constructed a mirror that changed the way we see ourselves. In lucid prose Hutchisson recounts the fascinating stories of the writing of these novels, reveals the author at work and the private person and shows the passion and craftsmanship he poured into his books. Now we have a clearer understanding of the sources of Sinclair Lewis' talent and of the literary significance of his volatile blend of satire and realism, caricature and truth."
Description

Reviews

Bio

Subjects
The Rise of Sinclair Lewis examines the making of Lewis' s best-selling novels Main Street, Babbitt, Arrowsmith, and Elmer Gantry—their sources, composition, publication, and subsequent critical reception. Drawing on thousands of pages of material from Lewis's notes, outlines, and drafts—most of it never before published—James M. Hutchisson shows how Lewis selected usable materials and shaped them, through his unique vision, into novels that reached and remained part of the American literary imagination. Hutchisson also describes for the first time how large a role was played by Lewis's wives, assistants, and publishers in determining the final shape of his books.
"In his study of Sinclair Lewis's most prepotent novels, James Hutchisson has swept away the cobwebs of neglect from the reputation of a great American writer, whose acute and indelible portraits of America—its towns, cities, and social topography constructed a mirror that changed the way we see ourselves. In lucid prose Hutchisson recounts the fascinating stories of the writing of these novels, reveals the author at work and the private person and shows the passion and craftsmanship he poured into his books. Now we have a clearer understanding of the sources of Sinclair Lewis' talent and of the literary significance of his volatile blend of satire and realism, caricature and truth."
"Not only is this study impeccably researched and well written, not only does it bring forth a substantial amount of new material on Lewis' career, but its publication could not come at a better time. The book should enjoy a considerable audience among those who are committed to a reexamination of the canon."
James M. Hutchisson is Associate Professor of English at The Citadel.
Also of Interest
Mailing List
Subscribe to our mailing list and be notified about new titles, journals and catalogs.