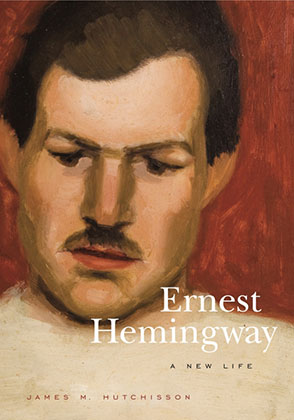 Ernest Hemingway
A New Life
James M. Hutchisson
BUY
Ernest Hemingway
A New Life
James M. Hutchisson
A 2017 Choice Outstanding Academic Title
"The best single-volume Hemingway biography now available. Summing up: Essential."
Description

Reviews

Bio

Table of Contents

Sample Chapters

Subjects
To many, the life of Ernest Hemingway has taken on mythic proportions. From his romantic entanglements to his legendary bravado, the elements of Papa's persona have fascinated readers, turning Hemingway into such an outsized figure that it is almost impossible to imagine him as a real person. James Hutchisson's biography reclaims Hemingway from the sensationalism, revealing the life of a man who was often bookish and introverted, an outdoor enthusiast who revered the natural world, and a generous spirit with an enviable work ethic.
This is an examination of the writer through a new lens—one that more accurately captures Hemingway's virtues as well as his flaws. Hutchisson situates Hemingway's life and art in the defining contexts of the women he loved and lost, the places he held dear, and the specter of mental illness that haunted his family. This balanced portrait examines for the first time in full detail the legendary writer's complex medical history and his struggle against clinical depression.
The first major biography of Hemingway in over twenty years, this monumental achievement provides readers with a fresh, comprehensive look at one of the most acclaimed authors of the twentieth century.
"The best single-volume Hemingway biography now available. Summing up: Essential."
"Toward the end of James J. Hutchisson's deftly written biography of Ernest Hemingway, we are reminded to 'remember how difficult it was for him to be "Ernest Hemingway."' That's something no reader of this well-researched book is likely to forget. Chapter after chapter, we see Hemingway in splendid complication as both the man and the artist."
"Written in graceful, jargon-free prose, this compact biography will appeal broadly to general readers, students, and scholars."
"Lovingly detailed. . . . Hutchisson celebrates Hemingway's many career triumphs, but pays at least as much attention to his troubles."
"Hutchisson has done the impossible: He has made an original contribution to the literature about the most written-about author in American letters."
"A perception exists that everything we need to know about the author of A Farewell to Arms and A Moveable Feast (among so many other great works) has been said ad infinitum. James M. Hutchisson's Ernest Hemingway: A New Life proves how untrue that thought is. Nearly thirty years after a revisionary wave of biographies reimagined the man, Hutchisson arrives to reset the scales once more, giving us a fuller, more nuanced portrait than we've ever enjoyed. Every generation deserves its own Hemingway, and this is ours."
"A work of mature judgment and rigorous scholarship, lucidly, often elegantly written."
"Building on newly available letters and other sources, this first new Hemingway biography in twenty years probes the author's complicated relationships with his family, mentors, wives—and other women. Readers will appreciate this documented account of Hemingway's fascinating life; those familiar with earlier biographies will find much fresh material in this accessible volume."
"Ernest Hemingway: A New Life marks a refreshing change in approach. With the exception of Michael Reynolds's multivolume biography, biographers since Carlos Baker have viewed Hemingway through various limited critical perspectives, resulting in life stories that differ markedly from one another. James Hutchisson's A New Life offers an unbiased view of a complex personality."
"Like a masterful visual artist who takes a familiar subject and makes it fresh and interesting, James Hutchisson gives us an original and compelling biographical portrait of Ernest Hemingway. By examining patterns in Hemingway's life and providing additional context, Hutchisson enables us to see aspects of the writer's life and art in a new light. The result is a balanced (if somewhat more sympathetic) view of Hemingway and a worthy counterpoint to previous biographies."
"In the first Hemingway biography in two decades, Hutchisson draws on recent scholarship, newly available family and medical histories, and expanded editions of posthumous works to craft a balanced and lucid treatment of Hemingway that deftly charts his spatial and sexual geographies. Hutchisson remains attuned to the patterns in Hemingway's life without sacrificing Hemingway's complexity. He probes Hemingway's contradictions without seeking to resolve them. This biography offers an invaluable aid to scholars of the frequently misunderstood late and posthumous works by examining Hemingway's continuing efforts to transcend the boundaries of the styles and forms his critics had come to expect. This portrait of Hemingway shows a writer who never ceased to evolve."
"Hutchisson is extremely good at describing the demons that rode [Hemingway] and the suffering they caused him, and he strikes an admirable balance between excuse and generous empathy that culminates in his treatment of Hemingway's final desperate act early on the morning of July 2, 1961."
James M. Hutchisson is Professor of American Literature at The Citadel and the author of The Rise of Sinclair Lewis, also published by Penn State University Press.
Contents
List of Figures
Acknowledgments
Introduction
1 The Midwest: Childhood and Youth
2 Italy and Agnes von Kurowsky
3 Michigan, Chicago, and Hadley
4 Paris
5 Duff Twysden and The Sun Also Rises
6 Pauline, Key West, and A Farewell to Arms
7 Spain and Death in the Afternoon
8 Jane Mason and Africa
9 Martha Gellhorn and the Spanish Civil War
10 Cuba and For Whom the Bell Tolls
11 China and World War II
12 Mary, Adriana, and Across the River and into the Trees
13 Revisiting the Past: Africa and Paris
14 Dangerous Summers: Spain, Cuba, Idaho
Notes
Selected Bibliography
Index
Ernest Hemingway is probably the most famous literary figure of all time. Some might argue that Hemingway wasn't the greatest American writer, or even the creator of the best American book. But Ernest Hemingway certainly is the American writer. He was the perfect blend of literary talent and iconic personality, and the contours of his life have become deeply etched in the American popular consciousness—from his vibrant, fledgling self in patched jacket and sneakers on the boulevards of 1920s Paris to his white-bearded, barrel-chested eminence in khaki shorts and long-billed fishing cap off the waters of 1950s Cuba. "Papa" still walks among us and looms large on the literary horizon—just as he wanted it to be.
Hemingway is also one of the most written-about authors, in terms of both his life and his art. Yet, surprisingly, there has not been a single-volume biography of Hemingway published in almost twenty-five years. Most of his biographers have seemed to veer from one pole of critical approval to the other, either accepting wholesale—or with exaggerated winks and nods—the self-created legend of the hypermasculine hero, or disapproving of Hemingway by emphasizing the superficial image of him as a mean-spirited, alcoholic womanizer.
Carlos Baker's "official" biography of 1969, Ernest Hemingway: A Life Story, laid the groundwork for all further writing on the author, but even Baker, as the authorized scribe, many times expressed true disdain for his subject. (Jack Hemingway, the author's eldest son, once complained that Baker had made his father out to be "a son of a bitch.") Jeffrey Meyers's 1985 Hemingway: A Biography, while clearly written and accessible, is openly disapproving. Kenneth Lynn's controversial 1987 psychobiography of Hemingway advances the fascinating argument that the greatest trauma of Hemingway's life was a consistent pattern of gender confusion, but it does not do full justice to the other material of Hemingway's life and work. James Mellow's 1992 book reads nearly everything that Hemingway wrote in the context of the homoeroticism within Hemingway's circle. Unlike previous biographers, I see Hemingway as someone who became many things to many people—sometimes opposite things. He was the war hero, the foreign correspondent, the expatriate, the consummate artist, the marlin fisherman and lion hunter, the womanizer, the drinker, the father and husband, the overbearing egotist, the tragic figure whose thoughts of self-destruction trailed him for nearly his entire life.
Hemingway's keystone subject was violent death. Plagued by depression and a history of mental illness in his family, Hemingway fought constantly against the insidious slow descent of what he called "the black ass," which could envelop him in an instant in a fog of despair. The adventuring, the risk taking, the life lived large, was collectively a way of avoiding the dark places that he tried to steer clear of in his life, so that he could explore them with some measure of safety in his art. His writing was a means of connecting with deep, raw emotion; to him, this meant being truthful about what is real—true to what is. The dark call to die, yet the insistence upon continuing, like the offering and withdrawing of emotion in his fiction, is an essential rhythm of Hemingway's life and art, just as are the silences that sit in his short, declarative sentences—a kind of concession to dread and, ultimately, mortality. It might not be too much to say that he was in some ways a nexus for death, for among the people whom he became close to, or who were part of his family, many were suicides. The psychic terrain that he lived in must therefore have been very hard for him to navigate while still remaining sane.
It is often said that one of Hemingway's best fictional creations was Ernest Hemingway himself. But what has not been traced through his life and work is how he discovered (or created) different identities through his writing, or how he used his writing to try to reconcile the contradictory elements within himself. I thus tend to see Hemingway more sympathetically than many earlier writers have; I believe he thought that if he could see himself clean and whole—what he thought of as the "true gen"—his writing might be useful to others who also lived their lives as journeys into themselves. Like most people, Hemingway changed over the course of his life. He was not the static figure that he has often been made out to be.
Hemingway had unusually high standards for his work, for others' work, and for others' friendships. So great a talent as his, and the concurrent fame and celebrity status that accompanied it, created huge difficulties in his personal life that he could never overcome, although he tried mightily to do so. Having the mantle of fame put on his shoulders while he was so young, he was always looking over his shoulder at the competition. He therefore developed a competitive streak that often made it impossible for him to praise fellow writers or to feel that anybody was as good a writer as he was. His relationships were often tempestuous, like a summer storm crossing the bay. His high standards created an almost suffocating anxiety in him; it is actually something of a miracle that he survived that pressure as long as he did. He also had a deeply ingrained sense of character, which he often, all too humanly, failed to live up to. This seems forgivable in most people, but many found it unforgivable in Hemingway. As Edmund Wilson once snidely put it, Hemingway had an inviolable code of honor that he was always breaking.
Hemingway also had an insecurity about all things physical. He was perpetually trying to impress people with his athletic skill, his sexual prowess, his stamina, his muscle tone, and his ability to participate competitively in physically challenging activities like sportfishing and boxing. His obsession with the body led him to explore the physical in his fiction in ways that no one had ever done before, although that interest did not come into focus until after the period of his greatest productivity, 1926–1940. After 1940, he pondered this theme in his fiction—though he could never push through and actually publish most of this work, perhaps for the very reasons that drove his own physical insecurities. His obsession with the physical also probably accounted for his often harsh treatment of his wives and lovers, since all of those relationships—with the exception of his first wife, Hadley—were based largely on sexual attraction. His letters to his wives and wives-to-be are among the most passionate and heartfelt in all of literary history. He thought that love was both the sine qua non of human existence and the greatest deceiver. When his marriages collapsed, he spun downward each time, powerlessly caught in an inner cyclone of guilt, anxiety, and even grief. By the time his emotions were spent, he was spiritually and psychically empty, hollowed out like a drum.
In this book, I pursue several specific angles of entry into understanding Hemingway. One is the pattern of how his writing was influenced by women and by place. I offer an organized look at the sequence of results produced in his work by his various wives, lovers, and mistresses. Each major novel gestated in Hemingway's consciousness and was brought to fruition during a relationship—whether sexual or not—with a woman. Hemingway's relationships with women were also inextricably bound to geographic locale. The battlefield seems to have been the most recurrent setting, but he also adopted a series of spiritual homes that became stimuli to creativity—most of all Spain, which he said in the second sentence of The Dangerous Summer that he loved more than any place on earth.
I also emphasize Hemingway's interest in medicine (his father was a physician, and his third son became one) and analyze his complex medical profile. I take into account his family health history, his recurrent vision problems, and the pattern of accidents, injuries, and illnesses that plagued him throughout his life. As John Dos Passos once said, he never knew an athletic, vigorous man who spent as much time in bed as Hemingway did. Hemingway had a complicated medical history that helps explain his emotions and attitudes, his public behavior, his fictional themes and preoccupations, and his ability or inability to write. Medical records among his personal papers show that for much of his life Hemingway took medications that conflicted chemically with one another and eventually produced disastrous results. It is my strong belief that it was this condition, much more than the idea that he was felled by fame or corrupted by the allure of celebrity, that propelled him down the slope into suicide at the end of his life. With his family history of mental illness, it is not surprising that Hemingway was obsessed with suicides, real and imagined. Trying to stare down the dark facts of a difficult world was something that had been part of him since youth.
The portrait of Hemingway that emerges in this book is neither tragic nor heroic, but is instead a balanced assessment that shows the ambition that drove him, and the anxieties, both real and imagined, that destroyed him.
Mailing List
Subscribe to our mailing list and be notified about new titles, journals and catalogs.