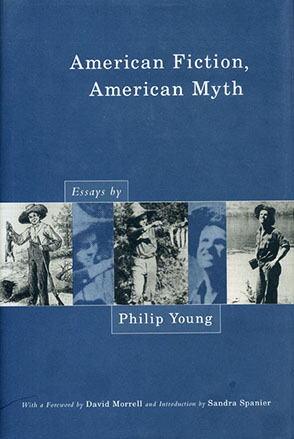 American Fiction, American Myth
Essays by Philip Young
Philip Young Edited by David Morrell and Sandra Spanier
Buy
American Fiction, American Myth
Essays by Philip Young
Philip Young Edited by David Morrell and Sandra Spanier
"This book shows Philip Young at his best. Full of keen insights, these essays will take readers back to original texts with fresh perspectives. Young was a gifted stylist, and his turn of phrase is precise and evocative."
Description

Reviews

Bio

Subjects
Few experts in American literature have written as insightfully and brilliantly as did Philip Young, renowned Hemingway critic and scholar at large. His unique work bursts with a joy in the humanities, with a sensibility, a humor, and a style that communicate to academics and general readers alike. Although Young died in 1991, he survives in his remarkable prose.
American Fiction, American Myth features nineteen groundbreaking essays in which Young masterfully reveals the "so what?" that he insisted all literary studies ought to have. In the first section, he demonstrates his fascination with such American myths as Pocahontas and Rip Van Winkle, reaching powerful conclusions about America and its people. In the second section, he becomes "Our Hemingway Man," explaining his germinal and still provocative theory that Hemingway's severe wounding in World War I so traumatized the novelist that his fiction was to a great degree unwitting self-psychoanalysis.
Young's book on Hemingway was the first of its kind, but Young was more than a one-author critic, as his essays demonstrate in the third section, exploring such diverse topics as Hawthorne's secret love, the Lost Generation that was never lost, F. Scott Fitzgerald's debt to T. S. Eliot, and the relationship between American fiction and American life. What Hemingway once said about himself can be equally applied to Young: "I am a very serious but not a solemn writer." The reader comes away from these essays dazzled by the power of Young's observations and the grace with which he expresses them.
"This book shows Philip Young at his best. Full of keen insights, these essays will take readers back to original texts with fresh perspectives. Young was a gifted stylist, and his turn of phrase is precise and evocative."
"What a poignant pleasure, to hear again in these previously uncollected essays the ever-graceful, always illuminating, and unfailingly entertaining voice of Philip Young: splendid teacher, scholar-critic of the first order, much-missed colleague and friend."
David Morrell, a former professor of American Literature at the University of Iowa, has published sixteen novels, including First Blood, The Brotherhood of the Rose, The Fifth Profession, and Extreme Denial. His critical study, John Barth: An Introduction, was published by Penn State Press.
Sandra Spanier is Associate Professor of English at Penn State University. Her previous books are Kay Boyle: Artist and Activist and two edited volumes, Life Being the Best and Other Stories by Kay Boyle and Love Goes to Press: A Comedy in Three Acts by Martha Gellhorn and Virginia Cowles. Both she and Morrell were graduate students of Professor Young.
Also of Interest
Mailing List
Subscribe to our mailing list and be notified about new titles, journals and catalogs.