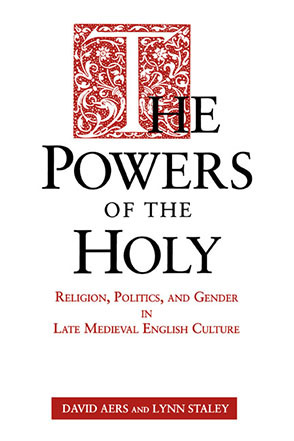 The Powers of the Holy
Religion, Politics, and Gender in Late Medieval English Culture
David Aers, and justin hall
Buy
The Powers of the Holy
Religion, Politics, and Gender in Late Medieval English Culture
David Aers, and justin hall
"The Powers of the Holy is one of those books you keep feeling you've decided about, only to find you haven't. Passionately argued and replete with historical analysis, literary interpretations, theoretical observations, and generally well-considered polemics, it is unusual to the degree in which it treats students of Middle English as though we all approach our subject as intellectuals, personally and politically engaged in the fourteenth century as part of our wider engagement in life in the present. . . . I have learned a great deal from this book, agree with much that is in it, disagree with much else, and expect to be telling students of medieval and early modern culture and thought I encounter over the next few years that it is one of the books that they must read."
Description

Reviews

Bio

Subjects
The Powers of the Holy
explores ways in which the language and images of Christian devotion in late fourteenth-century England were inextricably bound up with a variety of social and political relations. Addressing a wide range of texts, David Aers and Lynn Staley analyze the complex, shifting, and often extremely subtle forms in which writers responded to this situation.
Aers concentrates on representations of the humanity of Christ. He unfolds the spiritual and political implications of different versions of the humanity of Christ composed in this period, addressing major issues of gender and power introduced into the field by Caroline Walker Bynum and others. He considers conventional devotional texts, Wycliffite writings, Langland's Piers Plowman, and Julian of Norwich's Revelation. Staley focuses on Julian of Norwich and Geoffrey Chaucer, two very different minds working both within and against dominant conventions of representations and power. Though not usually paired, both writers signal their knowing participation in the contemporary debate about power and authority, a debate that was conducted using the language of sanctity.
The Powers of the Holy shows how and why medieval attempts to deal with an emerging crisis in the legitimization of authority (in most domains) interacted with conflicting versions of Christian sanctity. Simultaneously it shows just how, and why, matters that were distinctively spiritual could be politicized. Future readings of the period will undoubtedly follow this book's cultivation of methodologies that avoid any splitting apart of the study of devotion and devotional texts, the study of the politics of ecclesiastical and secular institutions, and the study of gender.
"The Powers of the Holy is one of those books you keep feeling you've decided about, only to find you haven't. Passionately argued and replete with historical analysis, literary interpretations, theoretical observations, and generally well-considered polemics, it is unusual to the degree in which it treats students of Middle English as though we all approach our subject as intellectuals, personally and politically engaged in the fourteenth century as part of our wider engagement in life in the present. . . . I have learned a great deal from this book, agree with much that is in it, disagree with much else, and expect to be telling students of medieval and early modern culture and thought I encounter over the next few years that it is one of the books that they must read."
"A very fine book, the fruit of an unusually seamless and effective collaboration by two prominent readers of English writing of the late fourteenth and early fifteenth centuries. . . . Aers and Staley . . . deliver that relatively rare thing, a book rich in scholarship and insistently, urgently challenging."
"The authors delineate the variable ways that late medieval representations of the holy are profoundly engaged in the politics of state, church, class, and gender. They offer innovative analyses of major authors and texts that will prove to be essential reading for medievalists in general and that will, I believe, have a salutary impact on the current rewriting of English literary history. The significance of Aers's and Staley's major claim about the 'powers of the holy' in late fourteenth-century English texts should not be underestimated. It enables—in fact requires—a reframing of the standard picture of the relations between the literary and the social in late medieval England."
"The Powers of the Holy will be read eagerly by all who are interested in the history of culture, religion, and literature, and that will stimulate vigorous debate."
David Aers is Professor of English and Religion at Duke University. He is the co-editor of The Journal of Medieval and Early Modern Studies and author of, most recently, Culture and History, 1350–1600 (1992) and Community, Gender, and Individual Identity: English Writing, 1360–1430 (1988).
Lynn Staley is Harrington and Shirley Drake Professor of the Humanities at Colgate University. Her most recent books include Margery Kempe's Dissenting Fictions (Penn State, 1994), The Shepheardes Calendar: An Introduction (Penn State, 1990), and an edition of The Book of Margery Kempe (1996)