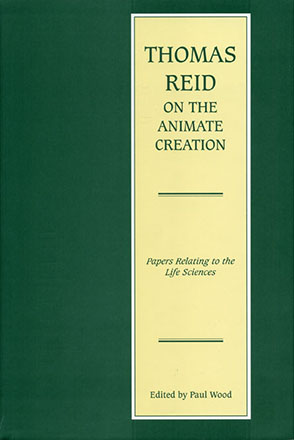 Thomas Reid on the Animate Creation
Papers Relating to the Life Sciences
Edited by Paul Wood
Buy
Thomas Reid on the Animate Creation
Papers Relating to the Life Sciences
Edited by Paul Wood
"An important and highly useful contribution to Reid studies that adds considerably to our knowledge of his work."
Description

Reviews

Bio

Subjects
Best known as a moralist and one of the founders of the Scottish Common Sense school of philosophy, Thomas Reid (1710–96) was also an influential scientific thinker. Here his work on the life sciences is studied in detail, bringing together unpublished transcripts of his most important papers on natural history, physiology, and materialist metaphysics.
Part I provides the first published account of Reid's reflections on the highly controversial theories surrounding muscular motion and the reproduction of plants and animals and relates them to the broader Enlightenment debates on these issues. It also contains the first systematic reconstruction of Reid's opposition to materialism and views his polemics against the noted Dissenter Joseph Priestley in terms of their differing interpretations of the Newtonian legacy, their conflicting philosophical assumptions, and the cultural politics of Common Sense philosophy in the 1770s.
Part II reproduces a selection of Reid's most significant papers on the life sciences, including his Glasgow Literary Society discourses on muscular motion and on Priestley's materialism, as well as other manuscripts that document the development of his scientific ideas.
"An important and highly useful contribution to Reid studies that adds considerably to our knowledge of his work."
Paul Wood is Associate Professor of History at the University of Victoria, Canada.
Mailing List
Subscribe to our mailing list and be notified about new titles, journals and catalogs.