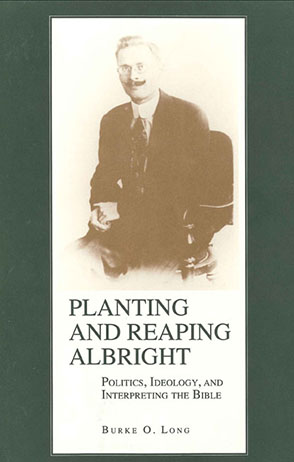 Planting and Reaping Albright
Politics, Ideology, and Interpreting the Bible
Burke Long
Buy
Planting and Reaping Albright
Politics, Ideology, and Interpreting the Bible
Burke Long
"Burke Long has written an uncommonly important and fascinating study in 'the history of the discipline' of Old Testament studies. . . . Long has taught us much about our recent past and temptations to agonistic scholarship. We may infer from his work a great deal more about our common future in scholarship."
Description

Reviews

Bio

Subjects
This book examines the social formation and ideological practices of William Foxwell Albright, the gifted Johns Hopkins linguist and archaeologist who, along with a fiercely loyal and organized group of former students, exerted uncommon influence on the substance and direction of mid-twentieth century biblical studies. Albright and these devoted students (such as G. Ernest Wright, Frank Moore Cross, Jr., David Noel Freedman, John Bright, George E. Mendenhall) came to be known as the "Albright School."
Burke Long here treats the field of biblical studies, not as a repository of objective knowledge, but as a culture created by like-minded people whose knowledge is mediated through the ideologically charged give-and-take of social interactions. A first of its kind for biblical studies, Planting and Reaping Albright draws on private letters, interviews, and published work to expose ideological presuppositions and political machinations embedded in historical knowledge about the Bible that this group of scholars constructed and disseminated through its various activities.
Long investigates Albright's many assumptions about the "way things really are" and the ways in which his students, describing themselves as "sons of Albright," embarked on a crusade to secure political and ideological dominance of the landscape of American biblical scholarship. The Albright School constituted a sociological phenomenon that had lasting consequences for American intellectual history and scholarship. Accordingly, this book suggests ways in which Albright, or a social realization of Albright, was present in, and presented to, a culture of generational and ideological solidarity.
"Burke Long has written an uncommonly important and fascinating study in 'the history of the discipline' of Old Testament studies. . . . Long has taught us much about our recent past and temptations to agonistic scholarship. We may infer from his work a great deal more about our common future in scholarship."
Burke O. Long is Professor of Religion at Bowdoin College. He is the author of, most recently, 2 Kings (1991).