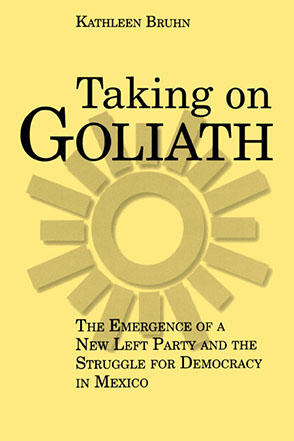 Taking on Goliath
The Emergence of a New Left Party and the Struggle for Democracy in Mexico
Kathleen Bruhn
Buy
Taking on Goliath
The Emergence of a New Left Party and the Struggle for Democracy in Mexico
Kathleen Bruhn
"[S]cholars will long be indebted to Bruhn for the pioneering research published in this impressive book."
Description

Reviews

Bio

Subjects
Taking on Goliath
analyzes the formation and decline of the most successful opposition party challenge to Mexico's long-ruling Institutional Revolutionary Party (PRI), which, until 1988, had ruled unchallenged for more than sixty years. The emergence of this new left opposition in 1988 shattered the myth of PRI invincibility. However, its failure to capitalize on its initial success raises intriguing questions about the relationship between party creation and consolidation and about the sources of party system change and democratization.
This book is the only major study in English of the origins and trajectory of the PRD, the party that today represents the unified Mexican left. Kathleen Bruhn draws on extensive field research, including interviews of major participants, local case studies of party organization, documentary evidence from party statutes and reports, and newspaper archives, as well as a statistical analysis of the basis of the left vote. The insights Bruhn offers into the different conditions that affect the functioning of political parties in their emergence and in their later consolidation apply broadly to many developing countries, but they especially help us understand the possibilities for greater democracy in Mexico today.
"[S]cholars will long be indebted to Bruhn for the pioneering research published in this impressive book."
"[W]e are fortunate to have this excellent study, which poses a series of questions that illuminate not only Mexican politics, but the long, difficult process of transition to more democratic institutions wherever that process is haltingly underway."
"This book is must reading for scholars with an interest in contemporary Mexican politics and society. It is the definitive study of the emergence and demise of the PRD in a few brief years between the late 1980s and the early 1990s."
"This is an important source for understanding current trends in Mexican political development, and it has broader application for understanding party development and political change cross-nationally. Its extensive use of field research, including interviews with major participants, local case studies of party organization, and documentary evidence from party statutes and reports, as well as newspaper archives, contributes to its thoroughness."
"This work is impressive in its scholarship, sophisticated in its analysis, insightful in its examination of Mexican politics, and commendable for its contribution to the discipline."
Kathleen Bruhn is Assistant Professor of Political Science at the University of California at Santa Barbara.