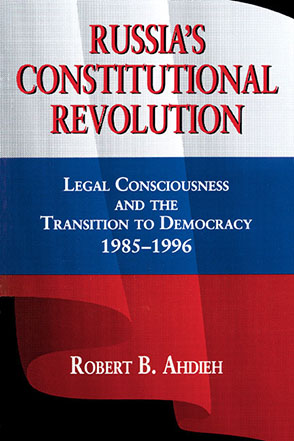 Russia's Constitutional Revolution
Legal Consciousness and the Transition to Democracy, 1985–1996
Robert Ahdieh
Buy
Russia's Constitutional Revolution
Legal Consciousness and the Transition to Democracy, 1985–1996
Robert Ahdieh
"Robert Ahdieh has provided an excellent, detailed account of the development of constitutionalism in the Soviet Union and Russia between 1985 and 1996."
Description

Reviews

Bio

Subjects
Robert Ahdieh assesses here the troubled history and uncertain future of constitutionalism in post-communist Russia. He argues that the development of Russian constitutionalism and legal culture, long ignored as secondary to the economic and political transformation of the country, is critical to the survival of democracy.
The discussion first focuses on the history of the Soviet Union and Russia from Gorbachev's selection as General Secretary in 1985 to the adoption of the new Constitution in December 1993. Ahdieh analyzes those decisions and events that impacted upon the development of constitutionalism, positing that Mikhail Gorbachev's and Boris Yeltsin's narrow focus on institution-building impeded the development of legal consciousness. He then presents an alternative model for constitutionalism's development under the 1993 Constitution.
Based on interviews with scholars, legal practitioners, and government officials intimately involved with the constitutional processes over the last decade, Ahdieh concludes that constitutionalism's emergence in Russia can occur only through an "evolution from below."
"Robert Ahdieh has provided an excellent, detailed account of the development of constitutionalism in the Soviet Union and Russia between 1985 and 1996."
"Although post-Soviet Russia is still young, it is not too early to begin writing its legal history. The author gained exceptional access to constitutional drafters in Russia and in this book has judiciously incorporated their observations into his careful reading of the relevant Western scholarship on the late USSR and the young Russian Federation."
"Events in Russia continually bear out Robert Ahdieh's emphasis on the centrality of constitutionalism, and of public involvement in its support, for the survival of economic and political reform. The book felicitously combines a lively, jargon-free style, a wide range of vital interviews in Russia, and thorough scholarship."
Currently a student at Yale Law School, Robert B. Ahdieh is a graduate of the Woodrow Wilson School of International and Public Affairs, Princeton University. He has worked at the Gorbachev Foundation in Moscow and in the office of Zbigniew Brzezinski in Washington, DC.