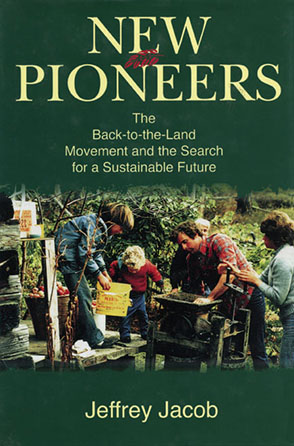 New Pioneers
The Back-to-the-Land Movement and the Search for a Sustainable Future
Jeffrey Carl Jacob
Buy
New Pioneers
The Back-to-the-Land Movement and the Search for a Sustainable Future
Jeffrey Carl Jacob
"This book is the work of a sociologist, and the academic conventions of this profession are readily visible, including tables, analysis, data and scholarly attention to detail. The overall effect, however, is not the boring treatise one might expect. Instead, the author delivers a lively work that is more a trade title on homesteading than a research report. This is a fascinating study of the individuals and groups who are drawn to the roots of urban civilization, complete with romantic misconceptions, hard-edged political values, escapes from the rat race, and the appeal of nature. As much as is possible with this social segment, descriptions and measurements are included, as well as individual anecdotes—sometimes humorous, sometimes grim—that put life and meaning into the search for agrarian fulfillment."
Description

Reviews

Bio

Subjects
"[P]ractically everyone I know is nursing fantasies about escaping the life they're trapped in and creating one that makes more sense," writes the editor of
Utne Reader
in a recent issue. "The people I most admire, though, are those who actually do it—who break free and pursue a higher calling no matter how great the risk."
New Pioneers is about one such group of people—the hundreds of thousands of urban North Americans who over the past three decades have given up their city or suburban homes for a few acres of land in the countryside.
Jeffrey Jacob's new pioneers are ordinary people who have tried to break away from the mainstream consumer culture and return to small-town and rural America. He traces the development of the movement and identifies seven different kinds of back-to-the-lander: the weekender, country romantic, purist, country entrepreneur, pensioner, micro-farmer, and apprentice. From over 1,300 survey responses, interviews, and in-depth case studies, at both the regional and national levels, of representative back-to-the-landers, Jacob analyzes their values, use of appropriate technology, family division of labor on their acreages, and predisposition toward environmental activism.
Jacob finds that back-to-the-landers for the most part are not completely independent of the mainstream economy, and consequently, their lives do reflect the contradictions between the available conveniences of a high-technology culture and the movement's goals of self-reliant labor. He analyzes their ambivalent attitudes toward technology—hoes and shovels versus mini-hydroelectric systems, wood stoves versus microwave ovens, and so on. After examining the experiences of the back-to-the-country people who live on the margins of a postindustrial society, Jacob creates a clearer appreciation of the preconditions necessary to translate the idea of sustainable living into concrete action on a society-wide scale.
While New Pioneers describes an important social movement, it also shows how far a group of highly motivated individuals and families can go, by themselves, in breaking away from the prevailing consumer culture. The dilemmas, frustrations, adaptations, and triumphs of these neo-homesteaders offer valuable insights to anyone contemplating a move "back to the land."
"This book is the work of a sociologist, and the academic conventions of this profession are readily visible, including tables, analysis, data and scholarly attention to detail. The overall effect, however, is not the boring treatise one might expect. Instead, the author delivers a lively work that is more a trade title on homesteading than a research report. This is a fascinating study of the individuals and groups who are drawn to the roots of urban civilization, complete with romantic misconceptions, hard-edged political values, escapes from the rat race, and the appeal of nature. As much as is possible with this social segment, descriptions and measurements are included, as well as individual anecdotes—sometimes humorous, sometimes grim—that put life and meaning into the search for agrarian fulfillment."
"Jeff Jacob has uncovered something of tremendous importance to homesteading as a movement. . . . I wish everybody would read New Pioneers. Homesteading would gain instant credibility, and even respectability. . . . Since that is probably impossible, I'd settle for seeing every Countryside reader reading this book."
"New Pioneers is the only book to address the back-to-the-land movement in anything other than a subjective and anecdotal fashion. Anyone who is interested in or who has experienced the movement will be fascinated by Jacob's findings."
"This study will help elucidate the continuing movement away from the frenetic pace and products of capitalistic industrialism."
Jeffrey Jacob is a member of the Graduate Division of Educational Research at the University of Calgary, Canada. He has contributed to a wide variety of journals, including Rural Sociology, Futures Research Quarterly, Journal for the Scientific Study of Religion, Forum for Applied Research and Social Policy, and Community Development Journal.
Mailing List
Subscribe to our mailing list and be notified about new titles, journals and catalogs.