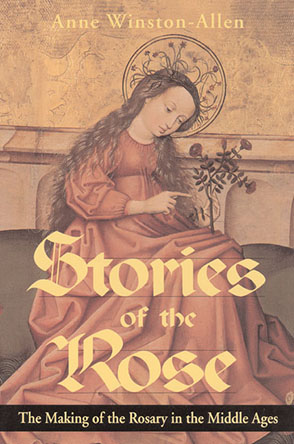 Stories of the Rose
The Making of the Rosary in the Middle Ages
Anne Winston-Allen
Buy
Stories of the Rose
The Making of the Rosary in the Middle Ages
Anne Winston-Allen
"Winston-Allen's intriguing work sheds light on [the rosary's] beginnings and explores how the rosary survived when many other devotional exercises of the Middle Ages did not, why it became so popular (even at the height of the Protestant Reformation), and how it was changed over time by writers, worshipers, and religious reformers. This fascinating history provides not only much detail but also valuable insight into the continuing appeal of the rosary."
Description

Reviews

Bio

Subjects
For centuries, the rosary has been one of the most popular expressions of religious devotion among Roman Catholics, but its origins remain obscure. Stories of the Rose presents a compelling and readable history of the rosary in its formative years. It explores the many spiritual, literary, and artistic dimensions of the rosary and explains how and why it became so popular on the eve of the Protestant Reformation.
"Winston-Allen's intriguing work sheds light on [the rosary's] beginnings and explores how the rosary survived when many other devotional exercises of the Middle Ages did not, why it became so popular (even at the height of the Protestant Reformation), and how it was changed over time by writers, worshipers, and religious reformers. This fascinating history provides not only much detail but also valuable insight into the continuing appeal of the rosary."
"Winston-Allen has done her research well. The book makes for fascinating and educational reading and gives an important dimension to the rosary as we honor it today."
"The author's research breaks new ground by investigating non-literary materials and the vernacular texts, especially German. She also extensively studied the artistic and other popular media of the 15th century. A comprehensive, integrative investigation that should appeal to all interested in Catholic religious practices and the cultural milieu of the Middle Ages."
"Few of the devotional exercises arising in the late Middle Ages have been as popular, long-lasting, and influential as the rosary. Anne Winston-Allen shows us where the rosary came from and how it was adapted over time by writers, worshipers, and religious reformers. This fascinating and carefully researched book will interest a wide variety of readers."
"The innovative work of Anne Winston-Allen proves without a doubt that Eamon Duffy's revisionist views of traditional religion have not fallen on deaf ears. . . . Winston-Allen pushes studies of Lollardy, witchcraft, magic, and heresy to the side and instead turns to the predominant symbol of late medieval piety: the rosary. In this unique examination of a religious object and its concomitant spirituality, she reveals significant and heretofore disregarded aspects of lay piety as it relates to gender, individuality, and lay initiative. . . . Winston-Allen brings this meaningful aspect of lay piety to the attention of English historians in a style that is readily accessible to both the academic and popular audiences."
Anne Winston-Allen is Associate Professor of German and Medieval Literature at Southern Illinois University at Carbondale. She is the author of Convent Chronicles: Women Writing About Women and Reform in the Late Middle Ages (Penn State, 2004).