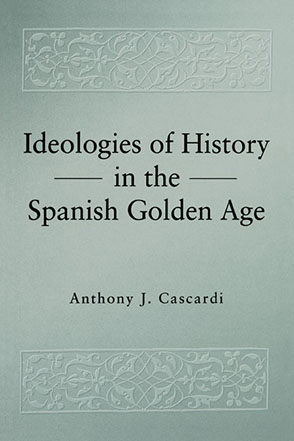 Ideologies of History in the Spanish Golden Age
Anthony J. Cascardi
Buy
Ideologies of History in the Spanish Golden Age
Anthony J. Cascardi
"This book presents an important argument about the ideological force of literature in the Golden Age."
Description

Reviews

Bio

Subjects
Spain in the sixteenth and seventeenth centuries was in the throes of modernization arising from trade with the New World and the rise of an urban society. During this period, Spanish culture came to be dominated by the tension between an old regime of traditional values—honor, lineage, purity of blood—and these modernizing influences.
Anthony J. Cascardi examines the literature of the Golden Age as the point at which tensions between the old and the new converged and proposes that this historical drama provided the context for subject-formation in early modern Spain. He examines how Spanish writers envisioned history and studies how these visions revealed or concealed contradictions between social values of their time, particularly between the value systems of caste and class.
Ideologies of History in the Spanish Golden Age draws on recent theoretical paradigms in contemporary philosophy, psychoanalysis, political and social theory, and literary history to place Spain's major literary figures in challenging new contexts. By accounting for both modernizing desires and resistances to modernization, Cascardi provides readers interested in theories of ideology and history with a new way of looking at the literature of the Spanish Golden Age.
"This book presents an important argument about the ideological force of literature in the Golden Age."
"Cascardi's essays are cogently argued and draw at length on the work of influential theorists in cultural studies (e.g., Pierre Bourdieu, Gilles Deleuze, Foucault, Félix Guattari, and Jacques Lacan). They represent a sustained endeavor to read Golden Age texts in relation to current critical theory and, as such, will shape further research on power and subjectivity in the Golden Age."
"This book is significant because it presents a complex and interesting investigation of desire and subject-formation as they manifest themselves in Spanish Golden Age literary production, and an account of Spain's particular intellectual trajectory as it entered the modern age."
Anthony J. Cascardi is Professor of Spanish, Comparative Literature, and Rhetoric at the University of California, Berkeley, and the editor of the Press's Literature and Philosophy series. He is the author of The Subject of Modernity, among numerous other works.