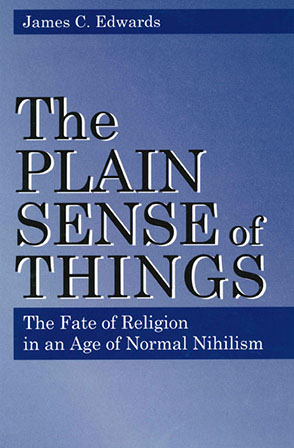 The Plain Sense of Things
The Fate of Religion in an Age of Normal Nihilism
James C. Edwards
Buy
The Plain Sense of Things
The Fate of Religion in an Age of Normal Nihilism
James C. Edwards
"This is a book of wisdom that mines the fading of our past religious convictions to show how they might provide a way to go on in what Edwards wonderfully calls 'normal nihilism.'"
Media

Description

Reviews

Bio

Subjects
Winner of the 1999 John N. Findlay Award from The Metaphysical Society of America
What could it mean to be religious in a world where religion no longer retains its former authority? Posing this question for his fellow Western intellectuals who inhabit just such a world, James C. Edwards investigates the loss of religion's traditional power in a culture characterized by what he calls "normal nihilism"—a situation in which one's commitment to a particular set of values is all one really has, and in which traditional religion is only a means of interpretation used to preserve what one most cares about. Recognizing the important historical role of religion in making us the people we are, he seeks to establish a viable understanding of religion without traditional beliefs and within the context of contemporary skepticism.
The Plain Sense of Things is a book more interested in the power of religion that in its truth and in what happens to that power when the claims to truth slacken their grip.
"This is a book of wisdom that mines the fading of our past religious convictions to show how they might provide a way to go on in what Edwards wonderfully calls 'normal nihilism.'"
"The Plain Sense of Things is a wonderfully learned book that has much to teach us about Nietzsche, Heidegger, Kierkegaard, Thoreau, and Stevens. But it is more than that because it includes passages of philosophical reflection that surpass in profundity and clarity some of the famous works it interprets. The book's central question is what it means to accept fully and acknowledge honestly the contingency of whatever there is. James Edwards somehow manages to address this question thoughtfully and intelligibly without resorting to the cant, posturing, and hubris one so often finds these days in other writers who concern themselves with 'nihilism' or 'the death of God.'"
James C. Edwards is Professor of Philosophy at Furman University. He is the author of Ethics Without Philosophy: Wittgenstein and the Moral Life (1985) and The Authority of Language: Heidegger, Wittgenstein, and the Threat of Philosophical Nihilism (1990).