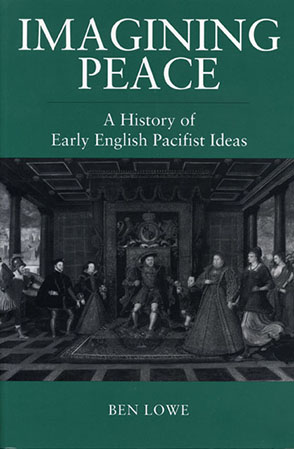 Imagining Peace
A History of Early English Pacifist Ideas
Benno Lowe
Buy
Imagining Peace
A History of Early English Pacifist Ideas
Benno Lowe
"

An excellent study of the development of pacifistic discourse during a period of recurrent warfare.

"
Description

Reviews

Bio

Subjects
In this book Ben Lowe examines the developing language of peace in late medieval and Renaissance England. He challenges the popular assumption that this was simply an age of war during which ideas of peace exercised very little impact on society and government. He offers a close reading of English writers on peace, integrating this analysis with careful attention to the political context, particularly during times of war, when calls for peace were more vocal. Lowe traces the concept of peace from its early Christian usage up to the sixteenth century. He focuses on the long period of foreign wars (1349–1560), often punctuated by domestic unrest, when theories of peace were increasingly discussed within the larger context of war and policymaking. Such practical concerns invariably led to a richer and more varied peace discourse. For instance, Lowe is able to show a shift in discussion away from platitudes—such as the restoration of goodwill among Christians—toward a more hard-headed set of foreign-policy problems, such as famine, inflation, disruption of trade, and the maintenance of the king's honor. He draws on an extraordinarily wide variety of sources, including theological and philosophical works, sermons, official prayers, moral treatises, commentaries, military handbooks, legal texts, state papers, chronicles, fiction, popular ballads, diaries, and personal letters.
Imagining Peace will appeal to others beyond historians of late medieval and early modern England. Lowe applies methods from other disciplines, especially literary and cultural studies and political theory. His analysis takes into account the problems and limitations of reconstructing past thought and determining authorial intent. Nonetheless, the text remains surprisingly free of technical jargon, making this a timely book for anyone interested in the origins of pacifism.
"

An excellent study of the development of pacifistic discourse during a period of recurrent warfare.

"
"

Lowe's highly readable and engaging book provides a fine exploration of the late medieval and early modern English discourse in favor of peace. It is an able study of the relationship between intellectual change in a society and the historical events that influence ideas and are influenced by them. This work furthers Lowe's contribution to studies concerning peace and provides a vital awareness of an issue that has not received sufficient attention among historians. It effectively corrects the assumption that there was little reflection on peace during the late medieval and early modern periods.

"
"Imagining Peace is a first-rate book. Lowe takes us from the Patristic and Canonist preoccupation with Just War theory to the dominant peace theory under Queen Elizabeth. His writing is always clear, persuasive, current in scholarship, and resourceful in argument."
Ben Lowe is Associate Professor of History at Florida Atlantic University.