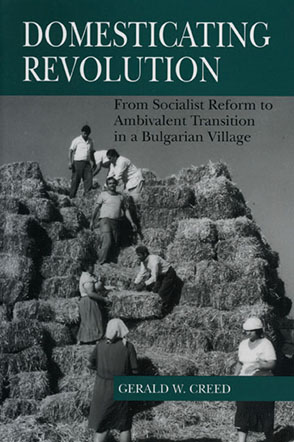 Domesticating Revolution
From Socialist Reform to Ambivalent Transition in a Bulgarian Village
Gerald W. Creed
Buy
Domesticating Revolution
From Socialist Reform to Ambivalent Transition in a Bulgarian Village
Gerald W. Creed
"Gerald Creed has written the best book available on contemporary events in Bulgaria. It clearly demonstrates why ethnographic methods are essential to understanding events since 1989: such methods reveal how daily practice 'domesticates' both socialism and its aftermath, disrupting the calculus of policies imposed from above. Written in accessible, jargon-free language, this book will be useful to students and policy-makers as well as to specialists of the region."
Media

Description

Reviews

Bio

Subjects
1998 Bulgarian Studies Association Book Prize
The collapse of state socialism in 1989 focused attention on the transition to democracy and capitalism in Eastern Europe. But for many people who actually lived through the transition, the changes were often disappointing. Perhaps none were more disappointed than the villagers of rural Bulgaria whose very lifestyles and identities were threatened by the transition.
Domesticating Revolution
explains this unexpected outcome through a detailed study of economic reform in one Bulgarian village, from the beginning of collectivization in the 1940s to decollectivization efforts in the 1990s.
Gerald Creed is the only American anthropologist to have conducted extended fieldwork in a single Bulgarian village both during and after the socialist era. This work has enabled him to document the precise connections between socialist practice and postsocialist developments. He suggests that by simply doing what they could to improve their difficult lot under socialism, Bulgarian villagers gradually domesticated the socialist system. This very achievement, however, set the stage for an ambivalent transition after 1989 as villagers sought to defend their earlier gains against new threats. Ironically, they appealed to domesticated socialism in a failed effort to domesticate the transition as well.
Domesticating Revolution will force scholars to rethink both their models of state socialism and their interpretations of the transition.
"Gerald Creed has written the best book available on contemporary events in Bulgaria. It clearly demonstrates why ethnographic methods are essential to understanding events since 1989: such methods reveal how daily practice 'domesticates' both socialism and its aftermath, disrupting the calculus of policies imposed from above. Written in accessible, jargon-free language, this book will be useful to students and policy-makers as well as to specialists of the region."
"This book gives the reader a ground-up view of how socialist economics worked for ordinary villagers in the late 1980s and how they reacted to and interpreted the subsequent transition. The scholarship is superior and the work is a major contribution to East European and (post) Soviet studies."
Gerald W. Creed is Associate Professor of Anthropology at Hunter College and the Graduate School of the City University of New York.