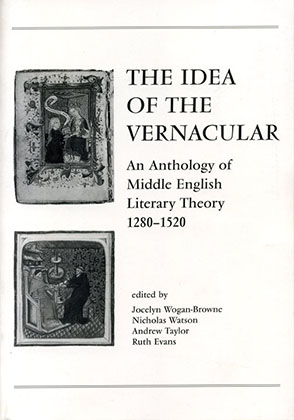 The Idea of the Vernacular
An Anthology of Middle English Literary Theory, 1280–1520
Jocelyn Wogan-Browne, Nicholas Watson, Andrew Taylor, and Ruth Evans
Buy
The Idea of the Vernacular
An Anthology of Middle English Literary Theory, 1280–1520
Jocelyn Wogan-Browne, Nicholas Watson, Andrew Taylor, and Ruth Evans
"The Idea of the Vernacular is one of the most worthwhile new publications that the field of Middle English literature has seen in some time. [This] is a necessary book for all who study and teach Middle English literature, and for their students."
Description

Reviews

Bio

Subjects
This pioneering anthology of Middle English prologues and other excerpts from texts written between 1280 and 1520 is one of the largest collections of vernacular literary theory from the Middle Ages yet published and the first to focus attention on English literary theory before the sixteenth century. It edits, introduces, and glosses some sixty excerpts, all of which reflect on the problems and opportunities associated with writing in the "mother tongue" during a period of revolutionary change for the English language.
The excerpts fall into three groups, illustrating the strategies used by medieval writers to establish their cultural authority, the ways they constructed audiences and readerships, and the models they offered for the process of reading. Taken together, the excerpts show how vernacular texts reflected and contributed to the formation of class, gender, professional, and national identity. They open windows onto late medieval debates on women's and popular literacy, on the use of the vernacular for religious instruction or Bible translation, on the complex metaphorical associations contained within the idea of the vernacular, and on the cultural and political role of the "courtly" writing associated with Chaucer and his successors.
Besides the excerpts, the book contains five essays that propose new definitions of medieval literary theory, discuss the politics of Middle English writing, the relation of medieval book production to notions of authorship, and the status of the prologue as a genre, and compare the role of the medieval vernacular to that of postcolonial literatures. The book includes a substantial glossary that constitutes the first mapping of the language and terms of Middle English literary theory. The Idea of the Vernacular will be an invaluable asset not only to Middle English survey courses but to courses in English literary and cultural history and courses on the history of literary theory.
"The Idea of the Vernacular is one of the most worthwhile new publications that the field of Middle English literature has seen in some time. [This] is a necessary book for all who study and teach Middle English literature, and for their students."
Jocelyn Wogan-Browne is Senior Lecturer in English at the University of Liverpool.
Nicholas Watson is Professor of English at the University of Western Ontario.
Andrew Taylor is Assistant Professor of English at the University of Saskatchewan.
Ruth Evans is Senior Lecturer in English Literature at the University of Wales, Cardiff.
Mailing List
Subscribe to our mailing list and be notified about new titles, journals and catalogs.