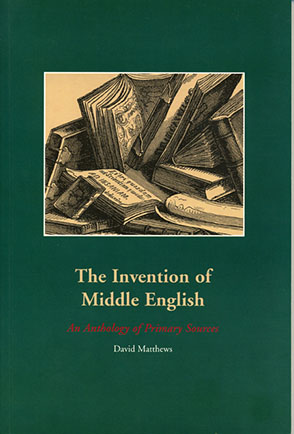 The Invention of Middle English
An Anthology of Primary Sources
David O. Matthews
Buy
The Invention of Middle English
An Anthology of Primary Sources
David O. Matthews
"This volume fills an obvious gap in the discipline of medieval studies generally and has no rival. Up till now it has been very difficult for both students and scholars to gain access to the primary material that relates to the subject of the development of the field of Middle English studies."
Description

Reviews

Bio

Subjects
At a time when medieval studies is increasingly concerned with historicizing and theorizing its own origins and history, the development of the study of Middle English has been relatively neglected.
The Invention of Middle English
collects for the first time the principal sources through which this history can be traced. The documents presented here highlight the uncertain and haphazard way in which ideas about Middle English language and literature were shaped by antiquarians in the eighteenth and nineteenth centuries. It is a valuable sourcebook for medieval studies, for study of the reception of the Middle Ages, and, more generally, for the history of the rise of English.
The anthology is divided into two sections. The first section traces the development of ideas about the Middle English language in the work of thirteen writers, including George Hickes, Thomas Warton, Jacob Grimm, Henry Sweet, and James Murray. The second section represents literary criticism and commentary by nineteen authors, including Warton, Thomas Percy, Joseph Ritson, Walter Scott, Thomas Wright, and Walter Skeat. Each of the extracts is annotated and introduced with a note presenting historical, biographical, and bibliographical information along with a guide to further reading. A general introduction provides an overview of the state of Middle English study and a brief history of the formation of the discipline.
"This volume fills an obvious gap in the discipline of medieval studies generally and has no rival. Up till now it has been very difficult for both students and scholars to gain access to the primary material that relates to the subject of the development of the field of Middle English studies."
"Anyone studying Middle English in the past fifty years has inherited a broad consensus about what the subject is. But this consensus and relative certainty are actually of very recent origin. For much of the history of the study of Middle English texts—certainly well into the twentieth century—the field was a very poorly mapped one indeed, to the point that the use of the unifying term, 'Middle English,' was in fact extremely rare until the 1870s, and not uniform after then."
David Matthews is lecturer in English at the University of Newcastle, Australia. He is the author of The Making of Middle English, 1765-1910 (1999).
Mailing List
Subscribe to our mailing list and be notified about new titles, journals and catalogs.