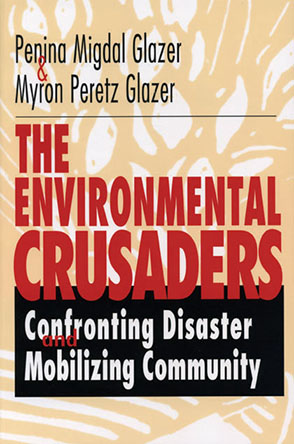 The Environmental Crusaders
Confronting Disaster, Mobilizing Community
Myron Peretz Glazer, and Penina Migdal Glazer
Buy
The Environmental Crusaders
Confronting Disaster, Mobilizing Community
Myron Peretz Glazer, and Penina Migdal Glazer
"This book eloquently captures the courageous and inspiring stories of ordinary people from three countries who believed that they, as individuals, could make a difference in their communities. In spite of personal sacrifice, public ridicule, and even physical threats, these 'crusaders' stepped forward to challenge the powers that be and demand change, showing that our world can—and must—be made a better place for us all."
Description

Reviews

Bio

Subjects
The Environmental Crusaders
highlights citizens in Israel, the former Czechoslovakia, and the United States who challenged serious ecological problems and demanded a safe environment and an accountable society. The men and women portrayed here confronted the threat of nuclear contamination, chemical waste and pollution, exposure to garbage and industrial refuse, untreated sewage, and other serious dangers. Drawing upon 140 interviews, Myron Peretz Glazer and Penina Migdal Glazer portray the personal transformation of those who moved from uninvolved residents to political activists working collectively to improve the quality of community life. In the process, they show how environmentalism is adapting to the new global economy.
An important feature of this book is its comparative approach. While the United States has a long tradition of environmental activism and a well-developed infrastructure to support environmental groups, Israel represents a society where security issues, economic development, and absorption of immigrants have superseded environmental concerns. A small group of early Israeli activists has recently been joined by others in forming a new and still fragile environmental movement. A parallel environmental group in the Israeli Arab community combines similar ecological concerns with a larger quest for equality and social justice. In a different national context, environmental dissidence has resulted in dramatic revolutionary change in Czechoslovakia. The book recounts the role of environmental activists in bringing down the Communist government in 1989 as well as post-Velvet revolutionary developments.
The Glazers argue that grassroots activists in all three countries have become the bedrock of an international social movement to expose and respond to environmental threats to their communities. Following on their pathbreaking work on whistle-blowers, the Glazers show the power of personal courage in the face of government and corporate bureaucracies that fail to meet our collective needs.
"This book eloquently captures the courageous and inspiring stories of ordinary people from three countries who believed that they, as individuals, could make a difference in their communities. In spite of personal sacrifice, public ridicule, and even physical threats, these 'crusaders' stepped forward to challenge the powers that be and demand change, showing that our world can—and must—be made a better place for us all."
"By conceiving of protest politics as a vital component of citizen's efforts to build a more democratic society, this book offers a more hopeful portrait of social capital in the 1990s than that of other social capital theorists."
Myron Peretz Glazer is Professor of Sociology at Smith College.
Penina Migdal Glazer is Professor of History at Hampshire College.
Together they authored the highly acclaimed book The Whistleblowers: Exposing Corruption in Government and Industry (1989).