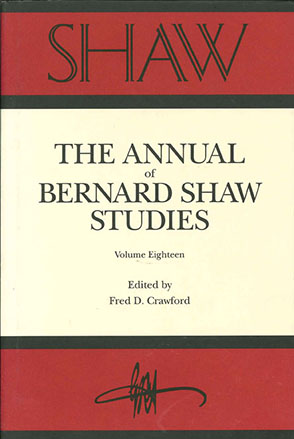 SHAW: The Annual of Bernard Shaw Studies, Vol. 18
Edited by Fred Crawford
BUY
SHAW: The Annual of Bernard Shaw Studies, Vol. 18
Edited by Fred Crawford
SHAW 18
offers fourteen articles that illuminate aspects of Shaw's family history, relations with contemporaries, evolving reputation, and dramatic works.
Description

Table of Contents

Subjects
SHAW 18
offers fourteen articles that illuminate aspects of Shaw's family history, relations with contemporaries, evolving reputation, and dramatic works.
Dan H. Laurence presents an authoritative genealogy of the Shaw and Gurly sides of Shaw's family. Among discoveries that have long eluded Shaw's biographers is the birthdate of Elinor Agnes "Yuppy" Shaw, Shaw's sister.
Michael W. Pharand assesses Shaw's intense dislike of Sarah Bernhardt. Stanley Weintraub analyzes Shaw's presence in the plays of Eugene O'Neill. Shaw's Advice to Irishmen, a newspaper account of Shaw's 1918 Dublin lecture "Literature in Ireland," records Shaw's comments on George Moore, J. M. Synge, and James Joyce.
Robert G. Everding surveys Shaw festivals from 1916 in Ireland to the present-day Shaw festivals in Ontario and Milwaukee. In a review of Frank Harris on Bernard Shaw (1931), Richard Aldington dismisses Shaw as human being, thinker, and dramatist: "You must be a Shavian to admire and love Shaw the artist." In an interview with Leon Hugo, biographer Michael Holroyd discusses his biography of G.B.S., responses to his biography, and future work involving G.B.S.
Jeffrey M. Wallmann argues that alienation in Shaw's plays enhances their contemporary value. Bernard F. Dukore investigates Shaw's reasons for discarding the original final act of The Philanderer. Rodelle Weintraub argues persuasively that You Never Can Tell requires the audience to choose between "Crampton's reality" and "Crampton's dream."
Mark H. Sterner, weighing the various charges against Ann Whitefield's character in Man and Superman, concludes that Shaw's treatment of her and Tanner "as significantly different, but nevertheless equal . . . in itself was a revolutionary change in the status of sexual power relationships."
Julie A. Sparks identifies W. W. Henley's sonnet "'Liza" as a likely source not only for some of Eliza's traits in Pygmalion but also for images in Man and Superman and Major Barbara.
Charles A. Carpenter considers Buoyant Billions and Farfetched Fables in the context of Shaw's response to the birth of the atomic age. Paul Bauschatz, evaluating the differences between My Fair Lady and Pygmalion, illustrates why the film can reflect Shaw's play "only uneasily."
SHAW 18 includes five reviews of recent additions to Shavian scholarship as well as John R. Pfeiffer's "Continuing Checklist of Shaviana."
Contents
NOTICES vii
1. THE SHAWS AND THE GURLYS: A GENEALOGICAL STUDY 1
Dan H. Laurence
2. THE SIREN ON THE ROCK: BERNARD SHAW VS.
SARAH BERNHARDT 33
Michel W. Pharand
3. EUGENE O'NEILL: THE SHAVIAN DIMENSION 45
Stanley Weintraub
4. SHAW'S ADVICE TO IRISHMEN 63
Bernard Shaw (Irish Times)
5. PLANTING MULBERRY: A HISTORY OF SHAW FESTIVALS 67
Robert G. Everding
6. "ALMOST WHOLLY CEREBRAL": RICHARD ALDINGTON ON BERNARD SHAW 93
Michel W. Pharand
7. THE QUEST FOR SHAW: AN INTERVIEW WITH MICHAEL HOLROYD 101
Leon Hugo
8. SEE NO EVIL, HEAR NO EVIL, SPEAK NO EVIL: THE
ALIENATION FACTORS IN SHAW'S DRAMAS 113
Jeffrey M. Wallmann
9. EVIDENCE AND INFERENCE: THE PHILANDERER 131
Bernard F. Dukore
10. EXTRACTING THE ROOTS OF SORROW: YOU NEVER CAN TELL AS DREAM PLAY 137
Rodelle Weintraub
11. SHAW'S SUPERWOMAN AND THE BORDERS OF FEMINISM: ONE STEP OVER THE LINE? 147
Mark H. Sterner
12. AN OVERLOOKED SOURCE FOR ELIZA? W. E. HENLEY'S LONDON TYPES 161
Julie A. Sparks
13. SHAW'S DRAMATIC REACTIONS TO THE BIRTH OF THE ATOMIC AGE 173
Charles A. Carpenter
14. THE UNEASY EVOLUTION OF MY FAIR LADY FROM
PYGMALION 181
Paul Bauschatz
REVIEWS
FILM-PLAYS BY THE DEVIL AND HIS DIRECTOR (Bernard Shaw and Gabriel Pascal, edited by Bernard F. Dukore) 199
John A. Bertolini
ARGUMENTS, ASIDES, ADDENDA: THE LAST WORDS (The Complete Prefaces, Vol. 3: 1930-1950, edited by Dan H.
Laurence and Daniel J. Leary) 205
Rhoda Nathan
SHAW REVIEWS HIS WORLD (Bernard Shaw's Book Reviews,Vol. 2: 1884 to 1950, edited by Brian Tyson) 208
Leon Hugo
MATURITY: SHAW'S NOVELS REVISITED (Bernard Shaw's
Novels: Portrait of the Artist as Man and Superman by Richard
Farr Dietrich) 212
Brian Tyson
SHAW AS SPIN DOCTOR (Pygmalion: Shaw's Spin on Myth and Cinderella by Charles A. Berst) 217
Alfred Turco, Jr.
A CONTINUING CHECKLIST OF SHAVIANA 220
John R. Pfeiffer
CONTRIBUTORS 245