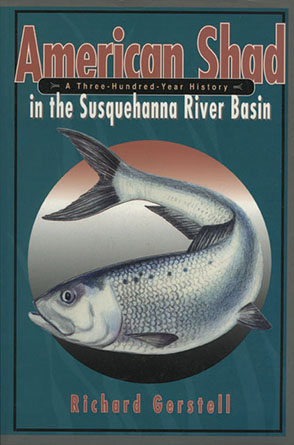 American Shad in the Susquehanna River Basin
A Three-Hundred-Year History
Richard Gerstell
BUY
American Shad in the Susquehanna River Basin
A Three-Hundred-Year History
Richard Gerstell
"Gerstell employs government reports, deed records, and newspaper accounts to reconstruct the size of the catches, methods employed by fishermen, and legislative attempts to check the inexorable decline of shad after 1830. Estate inventories yield lists of tools related to fishing, adding specificity and interest to this unpretentious but enlightening account of the once-abundant Susquehanna shad."
Description

Reviews

Bio

Subjects
Once the center of a major commercial industry along the Susquehanna River in Pennsylvania, Maryland, and New York, the American shad population in the river was almost destroyed in the mid-nineteenth century by the construction of dams. However, concerned citizens began rebuilding the shad population in 1950, and the continuing conservation efforts are proving successful in bringing the American shad back to the Susquehanna. This account of the rise, fall, and restoration of the shad population in the Susquehanna and its tributaries is a fascinating story of history, politics, technology, economics, sports, and environmentalism. It is also an inspiring tale of how human beings, once recognizing the damage they have done to the natural environment, can work to overcome the despoliation they have caused.
Drawing on state archives, government land records, private property deeds, early newspaper reports, and other primary documents, Richard Gerstell shows what an integral part the American shad has played in the cultural history of the people living in the Susquehanna River basin through three centuries. Detailed accounts of the once-thriving shad fishing industry include descriptions of scores of wagons regularly seen waiting for shad at fisheries along the river, fishermen occasionally killed in fights over fishing places, sanitary problems at city and riverbank fisheries, shore and island hotels built for fishermen and fish purchasers, shad-funded votes in state elections, and even shad recipes.
Gerstell also describes the adverse effects of dams and illegal fishing devices on the shad population and, drawing on records of the Susquehanna River Anadromous Fish Restoration Committee, covers: the early studies of the suitability of the river for shad restoration; artificial propagation of shad eggs obtained from outside the state; stocking of mature shad; construction of fishways; and analysis of the prospects for years ahead.
"Gerstell employs government reports, deed records, and newspaper accounts to reconstruct the size of the catches, methods employed by fishermen, and legislative attempts to check the inexorable decline of shad after 1830. Estate inventories yield lists of tools related to fishing, adding specificity and interest to this unpretentious but enlightening account of the once-abundant Susquehanna shad."
Richard Gerstell is a former Chief of the Division of Research for the Pennsylvania Game Commission and is the author of The Steel Trap in North America (1985) and How to Survive an Atomic Bomb (1950).
Also of Interest
Mailing List
Subscribe to our mailing list and be notified about new titles, journals and catalogs.