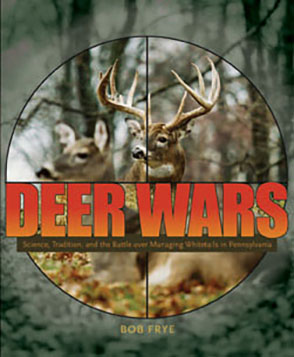 Deer Wars
Science, Tradition, and the Battle over Managing Whitetails in Pennsylvania
Bob Frye
BUY
Deer Wars
Science, Tradition, and the Battle over Managing Whitetails in Pennsylvania
Bob Frye
"A well-balanced, carefully documented must-read for anyone involved in the politics of modern day wildlife management in Pennsylvania."
Description

Reviews

Bio

Table of Contents

Sample Chapters

Subjects
The story of deer management in Pennsylvania is as complex as it is controversial. From the disappearance of deer in Pennsylvania forests at the beginning of the twentieth century to the population explosion that occurred in the latter half of the century, the balance between herd size and a healthy forest has long been a difficult one. In Deer Wars, Bob Frye examines this controversy and the effect that herd management has had on all of the citizens of Pennsylvania; farmers managing deer invasions and property rights, hunters dealing with changing herd densities and ever-complex restrictions, state agencies juggling the rights of hunters with the needs of commercial interests, all with stakes in the success and health of the deer herd. Now with deer harvests decreasing, Chronic Wasting Disease becoming a potential threat, and forests showing serious signs of trouble, the need for compromise from all of the players is essential, but is it possible? This well-researched and engrossing book explores that question.
"A well-balanced, carefully documented must-read for anyone involved in the politics of modern day wildlife management in Pennsylvania."
"True to his award-winning style, Bob has produced a meticulously researched, superbly written, and often humorous and emotional exposé about Pennsylvania's premier game animal. This prodigious book should be on the shelves of every serious conservationist and wildlife scholar."
"Go to any barber shop in Pennsylvania and you will discover at least one expert and many strongly held opinions on deer management. I urge fellow hunters and wildlife enthusiasts to read this well-written and fascinating book that explores the checkered history of deer management in Pennsylvania."
"Deer Wars—a wealth of information on Pennsylvania's current deer management program—what it's about, how it developed and where it may be going—along with the controversy it's created along the way. It is the first publication to give readers the Big Picture. It combines the science, the personalities and the opinions—from biologists to legislators to sportsmen to non-hunters—that lead to significant changes in Pennsylvania's deer management program, and will lead to additional changes as the science and the personalities continue to evolve. It delves into the reasoning behind the significant changes we've seen, be they antler restrictions or herd reduction through expanded seasons and programs such as DMAP. Frye doesn't hesitate to provide all sides of the issues, whether they're scientifically based or simply personal opinions.
Throughout the book, Frye manages to maintain that image of "sportsmen—the first conservationists," which is truly the theme driving the current program, as it should be. Hunters and non-hunters alike should take the opportunity to read this book. Non-hunters stand to learn about the problems uncontrolled wild animal populations can create as well as the purpose and role hunting plays in managing those populations and problems. Hunters—when you're finished you'll have a much better understanding of deer management as it's practiced today, whether or not you agree with it. More importantly, it will help you determine if you truly are a conservationist, or simply just a hunter. (Both types are quoted frequently—if you can recognize them.) Frye won't give you the answer at the end—he lets you make that decision for yourself!"
"Bob has interviewed an amazing array of characters on all sides of the deer management issue—in fact, I can't think of any major player he hasn't interviewed. In his unbiased, reporter-style coverage, he almost never takes a position; he just reports what other people say, often providing quotations from others with conflicting views. This book certainly represents the most comprehensive documentation of the history of deer management in Pennsylvania."
"Every Pennsylvania deer hunter should get—and read—Deer Wars: Science, Tradition, and the Battle Over Managing Whitetails in Pennsylvania, a new book by Bob Frye. Not because the book will help those who still have a deer tag get a buck, but because this work offers a clear presentation of the history, lore and complexity of living with deer in the modern world. It's the book our state needed decades ago. Deer Wars examines all aspects of the questions: How many deer should Pennsylvania have? Why? And who says so?"
"If I had the power to do it, I'd make Deer Wars mandatory reading for every deer hunter, anti-hunter, wildlife manager, farmer, forester and environmentalist in the state. It's that good."
"From the field notes of Emil Johnson, state game warden for Warren County in the 1920s, to recollections of Dick Gerstell, Game Commission research director in the 1930s, to a fitting tribute to the work and writings of Roger Latham in the 1950s, Frye knits together a very informative and readable in-depth history. He also does a credible job of reviewing the other contemporary issues facing deer managers in Pennsylvania and elsewhere, including suburban/urban deer management, chronic wasting disease and deer farming. . . . Deer Wars is a carefully researched, comprehensive, 328-page, softcover history of one of the wildlife profession's most vexing sagas. It is well worth reading by anyone interested in deer management, wildlife management history, human dimensions of wildlife or with a Pennsylvania hunting license."
"Frye's book is thoroughly researched, comprehensive, and an easy read. Whether you're a hunter, an anti-hunter, a farmer, a forest manager, a politician, a biologist, an environmentalist, or just an ordinary person who wants to understand what's happening with deer management in Pennsylvania, read Deer Wars by Bob Frye."
Bob Frye is an award winning outdoors journalist and the Outdoors Editor of the Tribune-Review.
Contents
Foreword
Acknowledgments
1. How Much Is Enough?
2. The Nature of Overabundance
3. When You Can't See the Forest for the Deer
4. Too Many Mouths in the Grocery Aisle
5. At Home in the 'Burbs
6. Bambi Versus the Buick
7. Heroes or Goats?
8. Questions and Answers
9. Getting to the Point of Managing Deer Correctly
10. In the Eye of the Storm
11. A Wild Card in the Deer Management Deck
12. A Look to the Future
Index
Mailing List
Subscribe to our mailing list and be notified about new titles, journals and catalogs.