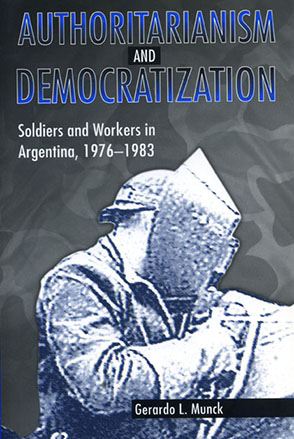 Authoritarianism and Democratization
Soldiers and Workers in Argentina, 1976–1983
Gerardo L. Munck
Buy
Authoritarianism and Democratization
Soldiers and Workers in Argentina, 1976–1983
Gerardo L. Munck
"Authoritarianism and Democratization stands as an indispensable reference book for any student of Latin American politics."
Media

Description

Reviews

Bio

Subjects
CHOICE Outstanding Academic Title for 1998
Military rule in Argentina from 1976 to 1983 was a classic case of bureaucratic authoritarianism. This book now presents for the first time in English a close look at that country's experience, providing new information on legal and institutional aspects of the Argentine regime and the intricate interaction between military rulers and trade unionists, while offering a model for the study of regimes in general.
Integrating insights from a wide range of literature, Gerardo Munck advances a novel conceptual framework for the study of political regimes and regime change. He follows the life cycle of regimes from founding through consolidation to demise, identifying critical explanatory factors and showing how challenges faced by governing elites in one phase affect subsequent political developments.
In explaining Argentina's experience with bureaucratic authoritarianism, Munck provides a compelling account of why that country's military rulers were only partially successful in designing a new institutional order and why they eventually fell, in a precipitous and uncontrolled manner, from power. He attributes their failure to the military's lack of cohesion and opposition to their initiatives, and shows that both of these factors were reinforced by the interim institutional arrangement the military created. He particularly shows how the exclusion of labor, a sign of military power, unwittingly undermined the military rulers, preventing the successful institutionalization, and ultimately precipitating the collapse, of bureaucratic authoritarianism.
Munck's comparison of the Argentine case with Chile from 1973 to 1990 and Brazil from 1964 to 1985 in the concluding chapter provides a further test of his theoretical model, while his analysis of the development of democracy in Argentina after 1983 demonstrates how important the legacies of authoritarian rule were. His study makes a vital contribution to our understanding of both regime development and a critical period of Argentine history.
"Authoritarianism and Democratization stands as an indispensable reference book for any student of Latin American politics."
"Munck has made a singular, sophisticated, and significant contribution in developing a conceptual framework from insights derived from scholarly literature on political regimes and regime change. . . . This outstanding book provides new understanding of the complexities of political regime origin, viability, and change as well as a valuable analysis and interpretation of military rule in Argentina."
"This book makes a significant contribution to the study of bureaucratic authoritarianism in Argentina and Latin America generally, and also a contribution to the analysis of political relations between the armed forces and labor. It is a theoretical work that aims to synthesize an abstract model and a concrete phenomenon. . . . The book is well written and tightly organized."
Gerardo L. Munck is Associate Professor of Political Science at the University of Illinois at Urbana-Champaign.