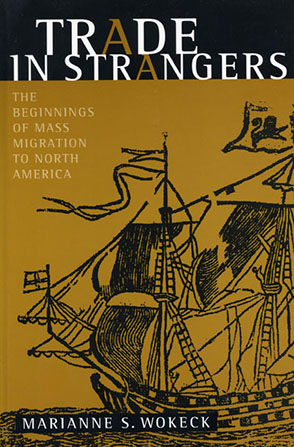 Trade in Strangers
The Beginnings of Mass Migration to North America
Marianne S. Wokeck
Buy
Trade in Strangers
The Beginnings of Mass Migration to North America
Marianne S. Wokeck
"Trade in Strangers makes a useful contribution to our knowledge of colonial immigration, and raises many questions for future research."
Description

Reviews

Bio

Subjects
American historians have long been fascinated by the "peopling" of North America in the seventeenth century. Who were the immigrants, and how and why did they make their way across the ocean? Most of the attention, however, has been devoted to British immigrants who came as free people or as indentured servants (primarily to New England and the Chesapeake) and to Africans who were forced to come as slaves.
Trade in Strangers
focuses on the eighteenth century, when new immigrants began to flood the colonies at an unprecedented rate. Most of these immigrants were German and Irish, and they were coming primarily to the middle colonies via an increasingly sophisticated form of transport.
Wokeck shows how first the German system of immigration, and then the Irish system, evolved from earlier, haphazard forms into modern mass transoceanic migration. At the center of this development were merchants on both sides of the Atlantic who organized a business that enabled them to make profitable use of underutilized cargo space on ships bound from Europe to the British North American colonies. This trade offered German and Irish immigrants transatlantic passage on terms that allowed even people of little and modest means to pursue opportunities that beckoned in the New World.
Trade in Strangers fills an important gap in our knowledge of America's immigration history. The eighteenth-century changes established a model for the better-known mass migrations of the nineteenth and twentieth centuries, which drew wave after wave of Europeans to the New World in the hope of making a better life than the one they left behind—a story that is familiar to most modern Americans.
"Trade in Strangers makes a useful contribution to our knowledge of colonial immigration, and raises many questions for future research."
"Trade in Strangers is first a sharply focused, impressively researched monographic study of the movement of German-speaking settlers to eighteenth-century Pennsylvania. Based on detailed research in German, Dutch, English, and American archives, Trade in Strangers is clearly the best study we have of this important migration and will serve as the starting point for all future scholarship on the subject. . . . While this book is aimed at professional historians even those with a more casual interest in early America will find much of interest here. Wokeck presents the clearest description I have seen of the redemptioner system, and offers a compelling account of the experience of eighteenth-century transatlantic migrants. In sum, this is a first-rate book that deserves a large audience."
"This monograph will be of interest to specialists in early American history and immigration history."
"This is a valuable contribution to the study of immigration, ethnicity and the economy, and essential for historians of greater Pennsylvania. . . . This is a rich study of the peopling of North America that should be of widespread interest to specialists in many sub-disciplines of history."
"Wokeck's contributions to the study of transatlantic migration have opened up important innovative perspectives which no student of eighteenth- or nineteenth-century mass migration should ignore."
"While Wokeck's book breaks important new ground concerning the development of a market devoted primarily to moving immigrants, it also contains a variety of additional information and data that many readers will find even more valuable."
"Trade in Strangers is an important addition to the study of mass migration."
"Only a historian versed in the Dutch, English and German languages and armed with tenacity could accomplish such a carefully researched chronicle."
"This is not a book where you will find your ancestors listed, unless they were a merchant involved in the migrant trade; but it is an invaluable source of information on what our 18th-century German ancestors experienced in Germany, in transit, and when they first arrived in America."
"No other historian has so thoroughly utilized German sources in constructing a portrait of the experience of over 100,000 German emigrants to the British colonies in the eighteenth century."
"Wokeck's study is a painstaking and illuminating analysis of the technological means, financial arrangements, and social networks by which late 17th- and 18th-century migrants from Germany and Ireland made their way to North America. Wokeck wonderfully combines the approaches of business history, economics, history of technology, social history, and political history to recover the how of immigration in the Colonial period."
Marianne S. Wokeck is Associate Professor of History at Indiana University/Purdue University at Indianapolis. She was previously Associate Editor of The Papers of William Penn and director of the Biographical Dictionary of Pennsylvania Legislators.