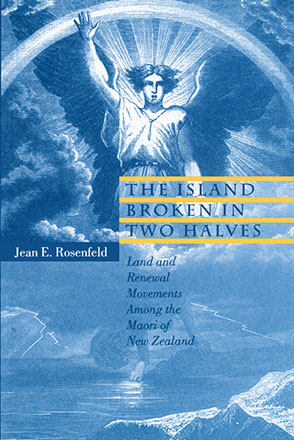 The Island Broken in Two Halves
Land and Renewal Movements Among the Maori of New Zealand
Jean E. Rosenfeld
Buy
The Island Broken in Two Halves
Land and Renewal Movements Among the Maori of New Zealand
Jean E. Rosenfeld
"Overall, Rosenfeld's patient research and reflective hermeneutics make this a remarkable contribution and the most stimulating and insightful study of these Maori movements thus far."
Description

Reviews

Bio

Subjects
Why should anyone outside New Zealand be interested in Maori history? Because it is rich in documents that recapitulate five hundred years of European imperial expansion and the responses to it by indigenous peoples. British humanitarians tried to avoid in New Zealand the tragic mistakes the Crown made in Australia, where aboriginal tribes were nearly exterminated in some cases and severely marginalized in others.
The Maori "history of struggle" is unique only in its relative success. The British enterprise of colonization and Christianization stimulated the formation of Maori renewal movements to hold fast to their threatened land. The study of these movements elucidates how human beings in general use the sacred to bridge the abyss between old and new worlds during the trauma of invasion and why people turn to religion as a paramount means of salvation from despair.
The Island Broken in Two Halves examines three related prophet movements within a framework that examines their fundamentally religious features. The King Movement envisioned a Maori polity governed by "religion, law, and love." It fueled the drive for unity that animates the twentieth-century Maori sovereignty movement. The Pai Marire cult sprang up in the wake of the first mid-nineteenth-century land war and swept rapidly across the North Island, igniting fears of a native rebellion. Out of the ashes of Pai Marire rose the Ringatu church, founded by a charismatic prophet who was marked by a "sign of discord." After his death, a Ringatu messiah predicted that a millennial king would return confiscated land to the impoverished tribes. Together, these movements formed a "Spirit tradition" with a unique hermeneutics that challenged the hegemony of European settlers.
"Overall, Rosenfeld's patient research and reflective hermeneutics make this a remarkable contribution and the most stimulating and insightful study of these Maori movements thus far."
Jean Elizabeth Rosenfeld is an Instructor in the Masters Program in Interdisciplinary Studies at Marylhurst University.