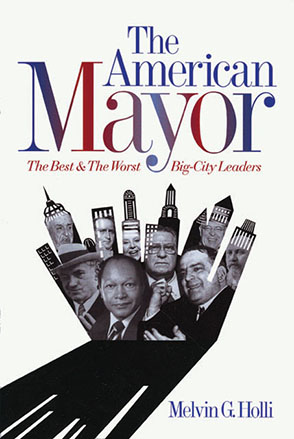 The American Mayor
The Best and the Worst Big-City Leaders
Melvin G. Holli
Buy
The American Mayor
The Best and the Worst Big-City Leaders
Melvin G. Holli
"An intelligent, inquisitive public will find The American Mayor to be worthwhile and interesting reading. Holli asks his own questions about the nature of leadership, providing interpretations which are original and significant. This is a remarkable book which should be required reading for all students of urban history, public policy, or political science."
Description

Reviews

Bio

Subjects
The American Mayor
offers a unique ranking of the nation's big-city mayors by expert scholars. Although the mayoralty is one of the most important political executive offices, it has escaped the kind of evaluations by which scholars have ranked American presidents. Now, thanks to Melvin Holli, we have a comparable survey of the "best" and "worst" mayors, covering some 730 mayors from the big-fifteen cities, from the beginning of the modern office in 1820 to the 1990s. The poll of historians, biographers, and social scientists produced a remarkably strong consensus.
Who were our best mayors? The list ranges from Boston's "Great Mayor" Josiah Quincy (1823–1828) to New York City's Fiorello La Guardia (1934–1945), who is first on the all-time-best list. La Guardia, a stouthearted fireplug of a man, built modern New York, fought Murder Incorporated, read the comics to children over the air during a newspaper strike, and was a symbol of ethnic probity and honesty. Sandwiched between Quincy and La Guardia are several other outstanding mayors, including Cleveland's Tom Johnson (1901–1909), Pittsburgh's David Lawrence (1946–1959), Detroit's Hazen Pingree (1890–1897), and Los Angeles's Tom Bradley (1973–1993).
Taking the first-worst prize among scoundrel mayors is Chicago's William H. "Big Bill" Thompson (1915–1923, 1927–1931), one of the most colorful mayors in the city's history, if not the most corrupt. Big Bill, also known as "Kaiser Bill" for his pro-German stand during World War I, accepted campaign funds from gangsters including Al Capone. Also among the "worst" is another Chicago mayor, Jane Byrne (1979–1983), the only woman on the list. Jersey City's Frank Hague (1917–1947) and Philadelphia's Frank Rizzo (1972–1980) are among the other notable rascals who have sat in city halls.
The American Mayor presents complete findings of Holli's poll in jargon-free fashion. Holli explains the results of the survey, gives biographical sketches of the ten best mayors, as well as some attention to the worst, and then uses the findings of modern leadership studies to explore mayoral success and failure. He concludes with a chapter titled "Pathways to Power," in which he reviews the New York City political milieu that produced the nation's "best" mayor, Fiorello La Guardia, and also examines the career of the nation's most successful big-city mayor, Buffalo's Grover Cleveland, the only mayor to become president of the United States.
"An intelligent, inquisitive public will find The American Mayor to be worthwhile and interesting reading. Holli asks his own questions about the nature of leadership, providing interpretations which are original and significant. This is a remarkable book which should be required reading for all students of urban history, public policy, or political science."
Melvin G. Holli is Professor of History at the University of Illinois at Chicago and author and editor of a dozen books, including Reform in Detroit: Hazen S. Pingree and Urban Politics (1969), The Biographical Dictionary of American Mayors, 1820-1980 (with Peter d'A. Jones; 1981), The Mayors: The Chicago Political Tradition (1987), Restoration: Chicago Elects a New Daley (1991), and, more recently, Bashing Chicago Traditions: Harold Washington's Last Campaign (with Paul M. Green; 1989).