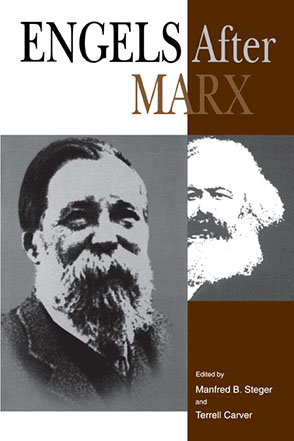 Engels After Marx
Edited by Manfred B. Steger, and Terrell Carver
Buy
Engels After Marx
Edited by Manfred B. Steger, and Terrell Carver
"Engels After Marx is an impressive work of scholarship. It brings Engels out from under the shadow of Marx and treats him as a thinker and activist in his own right. The host of perspectives offered in this volume examines the range of Engels's influence, his achievements, his mistakes, and his legacy for progressive theory and practice. The editors have indeed made a genuine contribution to our understanding of a crucial figure in the history of modernity."
Description

Reviews

Subjects
One hundred years after the death of Friedrich Engels, the longtime colleague of Karl Marx continues to influence the thought of socialist thinkers. This critical reappraisal of Engels addresses his relevance after both the death of Marx and the decline of Marxism, bringing Engels out from under the shadow of Marx to show the theoretical significance and historical impact of his wide-ranging criticisms for philosophy, science, political economy, history, and socialist politics.
This collection of original essays seeks to determine the nature of Engels's role as an independent socialist thinker, showing how his views coincided with or diverged from those of Marx. Leading experts in political theory examine such topics as scientific socialism, Engels's understanding of the relation between internationalism and the "national question," and feminist views on Engels.
The contributors offer new readings of Engels's texts, pursuing errors and omissions, uncovering his rhetorical maneuvers, and pointing to insights and conclusions in his thought that appear to have withstood the test of time. Engels after Marx attests both to the legacy of this political philosopher for contemporary left thought and to the legacy of Marxist socialism in the wake of upheavals in international Communism.
"Engels After Marx is an impressive work of scholarship. It brings Engels out from under the shadow of Marx and treats him as a thinker and activist in his own right. The host of perspectives offered in this volume examines the range of Engels's influence, his achievements, his mistakes, and his legacy for progressive theory and practice. The editors have indeed made a genuine contribution to our understanding of a crucial figure in the history of modernity."