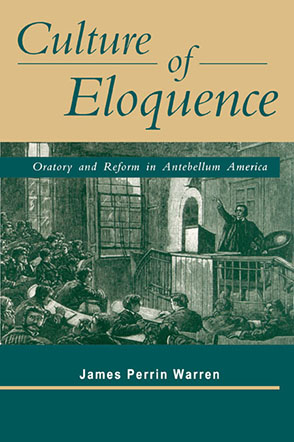 Culture of Eloquence
Oratory and Reform in Antebellum America
James Perrin Warren
Buy
Culture of Eloquence
Oratory and Reform in Antebellum America
James Perrin Warren
"[a] patient, scholarly, widely informative, and imaginatively stimulating book."
Media

Description

Reviews

Bio

Subjects
A 2000 CHOICE Outstanding Academic Title
Americans of the early Republic valued the art of eloquence, upholding the ideal that an impassioned, intelligent, and moral speaker will provide essential truths to a democratic audience. Drawing on nonfiction prose of the 1830s–1850s—especially orations, lectures, and addresses—James Perrin Warren sketches a cultural history of the reforming power of language.
Antebellum America truly defined itself as a culture of eloquence. This disposition could be seen in the creation of new cultural spaces, such as the lyceum and popular lecture system, for speakers who were then measured against the ideals of eloquence held by their listeners. Defining eloquence as "powerful, moving speech," Warren engages a host of writers/orators to develop his argument, beginning with Ralph Waldo Emerson's philosophy of language in the 1830s and expanding his discussion to include the theories and practices of Henry David Thoreau, Margaret Fuller, Elizabeth Peabody, Frederick Douglass, William Gilmore Simms, and Walt Whitman. From this list he outlines practices that crossed the boundaries of gender, race, and class, ultimately showing that diverse sectors of society valued the word as a means toward reform.
Powerful words move people to action, and Warren clearly delineates the authority accorded oratory in antebellum America. This book will appeal to a wide audience, including those interested in antebellum American culture, American literature and cultural history, literary criticism, and rhetoric.
"[a] patient, scholarly, widely informative, and imaginatively stimulating book."
James Perrin Warren is Professor of English and Department Chair at Washington and Lee University. His previous book, Walt Whitman's Language Experiment, was published by Penn State Press in 1990.