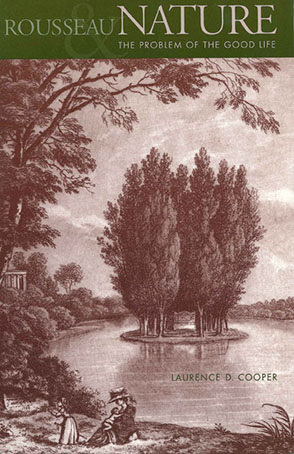 Rousseau, Nature, and the Problem of the Good Life
Laurence D. Cooper
Buy
Rousseau, Nature, and the Problem of the Good Life
Laurence D. Cooper
"A freshly original reading of Rousseau without 'doing' anything to him (i.e., distorting or perverting him just to put him in a 'new light'). Among other strengths, this book contains the fullest and most important treatment in the English language of a crucial Rousseauean distinction—that between amour de soi and amour-propre."
Description

Reviews

Bio

Subjects
The rise of modern science created a crisis for Western moral and political philosophy, which had theretofore relied either on Christian theology or Aristotelian natural teleology as guarantors of an objective standard for "the good life." This book examines Rousseau's effort to show how and why, despite this challenge from science (which he himself intensified by equating our subhuman origins with our natural state), nature can remain a standard for human behavior.
While recognizing an original goodness in human being in the state of nature, Rousseau knew this to be too low a standard and promoted the idea of "the natural man living in the state of society," notably in Emile. Laurence Cooper shows how, for Rousseau, conscience—understood as the "love of order"—functions as the agent whereby simple savage sentiment is sublimated into a more refined "civilized naturalness" to which all people can aspire.
"A freshly original reading of Rousseau without 'doing' anything to him (i.e., distorting or perverting him just to put him in a 'new light'). Among other strengths, this book contains the fullest and most important treatment in the English language of a crucial Rousseauean distinction—that between amour de soi and amour-propre."
"An excellent and thorough study of the concept of Nature in Rousseau's political philosophy, this book will be of great value to all interested in Rousseau, whether philosophers, political theorists, or French literature specialists."
"This study is a valuable contribution to our understanding of Rousseau and to modern thought more generally. The book is engaging and Cooper's focus on the psychological element of Rousseau's thought—both the structure of the psyche and Rousseau's concern with healthy psyches—strikes me as instructive and appropriate."
"Laurence Cooper's book is an important contribution to Rousseau scholarship and an analysis that will be illuminating and thought-provoking for anyone who takes seriously the problems of modern man and political philosophy.
Laurence Cooper has offered a well-written, carefully argued, thought-provoking account of Rousseau's understanding of the primitive basis for the natural goodness of civil man and the relation between amour de soi and amour-propre."
"Making a self-assured debut, Laurence Cooper declares: 'If my interpretation is propelled by a single question, the question of the good life, it is also dominated by a single theme,' that of 'the concept of nature.' He links the 'question' to the 'theme' via the idea of 'existence.' The connection is established thus: 'the measure of the good life . . . is existence, for existence . . . is prior to happiness in two senses. . . . First, it is the very substance . . . of happiness; and second, it can be attained—and can thereby give meaning and quality to life—quite apart from happiness.' . . . The ideas of conscience and amour-propre are important in Cooper's exposition. He presents Rousseau's scattered comments on conscience with clarity and insight, distilling their essence without discounting the varied nuances of texts written at different times, in different contexts. . . . The most original part of Cooper's book is his treatment of existence. The idea is that an individual can have a higher or a lower level of existence, the level being measured on both quantitative and qualitative scales."
Laurence D. Cooper is Assistant Professor of Political Science at Carleton College.
Mailing List
Subscribe to our mailing list and be notified about new titles, journals and catalogs.