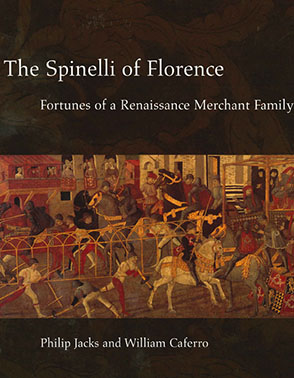 The Spinelli of Florence
Fortunes of a Renaissance Merchant Family
Philip Jacks, and William Caferro
Buy
The Spinelli of Florence
Fortunes of a Renaissance Merchant Family
Philip Jacks, and William Caferro
"This impressive book, a collaboration between economic historian Caferro and art historian Jacks, provides a deep reading of Tommaso Spinelli, one of Florence's leading bankers and patrons of architecture during the 15th century.


Media

Description

Reviews

Bio

Subjects

Winner of a 2002 Choice Outstanding Academic Title

The private archive of the Spinelli, acquired by Yale University's Beinecke Library in 1988, constitutes the largest fund of information about a Florentine family anywhere outside Italy.

The Spinelli of Florence

tells the story of these merchants and their ascent to social and economic prominence during the fourteenth and fifteenth centuries. This book gives an intimate portrait of daily life—the worlds of papal finance, silk and wool manufacturing, and household affairs—as recorded in letters and financial ledgers preserved for two hundred years since the extinction of the male line.

The fame of this family rests largely on the extraordinary success of one individual, Tommaso Spinelli, who broke into banking through the Alberti and Borromei organizations, later to serve as depository general under Pope Eugenius IV and financial officer to three subsequent popes. Tommaso sought to raise his status in society through ties of marriage and business rather than entering the political arena, which had led to the demise and exile of older, established Florentine families, notably the Peruzzi and Alberti. Like his contemporaries, Cosimo de'Medici, Giovanni Rucellai, and Francesco Sassetti, Tommaso poured his considerable wealth into the patronage of private palaces and villas in Rome and Florence, as well as through donations to the great Franciscan church of Santa Croce. Despite his reputation for magnificence, it was Tommaso's obeisance to the codes of religious decorum and his adherence to older artistic traditions that allowed him to commemorate himself and his family without censure.

The authors of this collaborative study, an architectural historian and economic historian, add significantly to our knowledge of private and papal banking, wool and silk manufacturing, and patronage of the arts. The Spinelli of Florence is important for scholars of history, economic history, social history, and art history.

"This impressive book, a collaboration between economic historian Caferro and art historian Jacks, provides a deep reading of Tommaso Spinelli, one of Florence's leading bankers and patrons of architecture during the 15th century.
An indispensable resource for historians and art historians alike."

"Washington University architectural historian Philip Jacks and Vanderbilt economic historian William Caferro have blended their individual interests in the Spinelli family and their deep research into its recently opened archival remains in the Beinecke Library (Yale), to produce an integrated study of Tommaso di Lionardo Spinelli (1398–1472), his ancestors, mercantile activities, art patronage and situations in Roman and Florentine society. Though Caferro is presumably more interested in the ways in which Tommaso acquired his wealth as a banker and cloth merchant, and Jacks in the ways he spent his profits on his country villa, urban palazzo and neighborhood church (Santa Croce), the lavishly produced study they present has been carefully rendered seamless."

"Even though rarely a page passes without some kind of illustration, this is not a coffee table book but a work of scholarship.
By working together to produce this distinctive portrait, Jacks and Caferro have produced an excellent study that reminds us of the value of collaborative scholarship."

"At the heart of an interpretation, advises St. Jerome, lies 'not what you find, but what you seek.' Jacks and Caferro have found a great deal indeed. In an inspired collaboration, they have worked through centuries of documents in the unusually intact Spinelli Archive, housed since 1988 at Yale's Beinecke Library. As a result, The Spinelli of Florence is a splendidly detailed account of one merchant-banking family's vicissitudes from the mid-thirteenth to the late fifteenth century.
If, in contributing to all these issues, Jacks and Caferro never ascend to the crystalline heights of, say, Bizocchi's article-length study of the Buondelmonte, they have nevertheless co-written a family history unprecedented in its interdisciplinary achievement."

"Their cooperation has now produced a richly documented and lavishly illustrated book that examines the life of a Florentine merchant family in the fourteenth and fifteenth centuries.
The authors are to be commended not only for having assembled quite an array of information on a little-known, though economically important figure of fifteenth-century Florence, but also for having presented a well-integrated study of his life and times.
This volume is lavishly produced. It is enriched with 157 illustrations (b/w and color) and seven detailed genealogical tables. It offers the reader a generous appendix of forty-eight carefully transcribed documents running to a stunning sixty-three two-columned pages of text in Latin or Italian, all drawn from the Beinecke collection: these include testaments, correspondence, papal bulls, letters, grants, and licenses, various ricordi, depositions, inventories, licenses, purchase deeds, tax declarations, and even a detailed description of the papal tiara entrusted by Pope Calixtus III Borgia to Tommaso Spinelli as collateral for outstanding loans. Truly a treasure-trove that calls for further and continued research on these documents."

Philip Jacks is Assistant Professor of Art History at George Washington University. His previous books include Vasari's Florence: Artists and Literati at the Medicean Court (1998) and The Antiquarian and the Myth of Antiquity: The Origins of Rome in Renaissance Thought (1993).

William Caferro is Assistant Professor of History at Vanderbilt University. His previous book are The Unbounded Community: Conversations across Time(1994) and The Companies of Adventure and the Decline of Siena (forthcoming).
Mailing List
Subscribe to our mailing list and be notified about new titles, journals and catalogs.