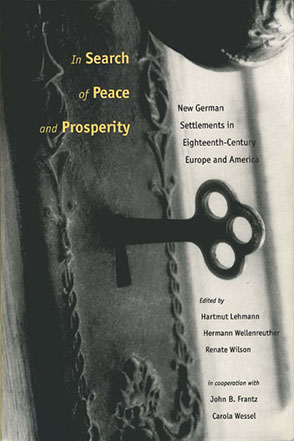 In Search of Peace and Prosperity
New German Settlements in Eighteenth-Century Europe and America
Edited by Hartmut Lehmann, Hermann Wellenreuther, and Renate Wilson
Buy
In Search of Peace and Prosperity
New German Settlements in Eighteenth-Century Europe and America
Edited by Hartmut Lehmann, Hermann Wellenreuther, and Renate Wilson
"The fourteen essays in this collection offer a fresh perspective not only on the history of the eighteenth-century patterns of German migration, but also on the larger question of migration patterns in the early modern Atlantic world. . . . This edited volume provides a splendid example of the potential insights to be gained from considering the history of German migration in comparative context. . . . Considered together, these essays represent an important and innovative contribution to early American scholarship."
Description

Reviews

Bio

Subjects
This volume brings together essays by leading German and American historians on the subject of the eighteenth-century German emigration. Scholars have traditionally studied the nineteenth century, when the overwhelming majority of German emigrants came to the New World. In this book, contributors focus on an earlier period, when Germans were moving to a variety of destinations: Russia, Prussian Lithuania, and various other German territories as well as North America.
What drove men and women from different regional and social backgrounds to leave their homes during this time? Some migrations were forced, as for the Mennonites, the Salzburger emigrants, and the French Huguenots; some were voluntary and determined by the wish for one's own land and greater social and economic opportunity. In all groups, religion was a prominent motivator and primary element of social identification and cohesion. Inevitably, migrants carried with them traditional skills and other indispensable cultural "baggage." A key strength of this book is that contributors emphasize the mutual exchanges that occurred among cultures.
In Search of Peace and Prosperity grew out of a conference at Penn State University under the sponsorship of the German Historical Institute in Washington, D. C. Contributors are Rosalind J. Beiler, Jon Butler, Andreas Gestrich, Mark Häberlein, Thomas Klingebiel, Hartmut Lehmann, Thomas Müller-Bahlke, A. Gregg Roeber, Mack Walker, Hermann Wellenreuther, Carola Wessel, Renate Wilson, and Marianne S. Wokeck.
"The fourteen essays in this collection offer a fresh perspective not only on the history of the eighteenth-century patterns of German migration, but also on the larger question of migration patterns in the early modern Atlantic world. . . . This edited volume provides a splendid example of the potential insights to be gained from considering the history of German migration in comparative context. . . . Considered together, these essays represent an important and innovative contribution to early American scholarship."
"This book is essential reading for students of early American, Atlantic, and European history."
Hartmut Lehmann is Professor of History and Director of the Max-Planck Institute for History in Gottingen, Germany. Hermann Wellenreuther is Professor of History at the University of Gottingen. Renate Wilson is a social and medical historian at The Johns Hopkins University.