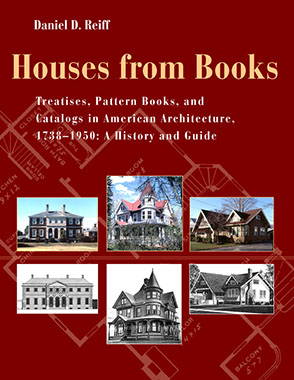 Houses from Books
Treatises, Pattern Books, and Catalogs in American Architecture, 1738–1950: A History and Guide
Daniel D. Reiff
BUY
Houses from Books
Treatises, Pattern Books, and Catalogs in American Architecture, 1738–1950: A History and Guide
Daniel D. Reiff
"Daniel Reiff's Houses from Books is a sweeping, intriguing compilation. It makes all those 'other' buildings around us understandable. It's a useful text for students, scholars, and professionals in fields ranging from American studies to architecture and architectural history, from local and regional history to historic preservation. It should be on the reference shelf of every library in the United States."
Media

Description

Reviews

Bio

Subjects
Winner of the 2001 Historic Preservation Prize Sponsored by the Center for Historic Preservation, Mary Washington College
Many homes across America have designs based on plans taken from pattern books or mail-order catalogs. In
Houses from Books
, Daniel D. Reiff traces the history of published plans and offers the first comprehensive survey of their influence on the structure and the style of American houses from 1738 to 1950.
Houses from Books shows that architectural publications, from Palladio's I Quattro Libri to Aladdin's Readi-Cut Homes, played a decisive role in every aspect of American domestic building. Reiff discusses the people and the firms who produced the books as well as the ways in which builders and architects adapted the designs in communities throughout the country. His book also offers a wide-ranging analysis of the economic and social conditions shaping American building practices.
As architectural publication developed and grew more sophisticated, it played an increasingly prominent part in the design and the construction of domestic buildings. In villages and small towns, which often did not have professional architects, the publications became basic resources for carpenters and builders at all levels of expertise. Through the use of published designs, they were able to choose among a variety of plans, styles, and individual motifs and engage in a fruitful dialogue with past and present architects. Houses from Books reconstructs this dialogue by examining the links between the published designs and the houses themselves.
Reiff's book will be indispensable to architectural historians, architects, preservationists, and regional historians. Realtors and homeowners will also find it of great interest. A catalog at the end of the book can function as a guide for those attempting to locate a model and a date for a particular design. Houses from Books contains a wealth of photographs, many by the author, that enhance its importance as a history and guide.
"Daniel Reiff's Houses from Books is a sweeping, intriguing compilation. It makes all those 'other' buildings around us understandable. It's a useful text for students, scholars, and professionals in fields ranging from American studies to architecture and architectural history, from local and regional history to historic preservation. It should be on the reference shelf of every library in the United States."
"This is the definitive story of the role that architectural publications have played in American domestic building."
"Building on more than a quarter-century of his own research and on many articles and books that have appeared during the past two decades, Daniel D. Reiff has chronicled the slow progress from builder's handbook to mail-order dwelling. Houses from Books is the most far-reaching of several recent studies that have addressed the long-overlooked influence of the published word and picture upon the American concept of home. . . . [It will be] the standard reference on its subject for many years. . . . Houses from Books belongs in every public and academic library and on the bookshelf of every preservationist and student of American material culture."
"A handsome, fully illustrated quarto volume, Houses from Books is a thorough and thoughtful treatment of house building in America from 1820 to 1950s. . . . Combined with Reiff's extensive and intensive fieldwork, Houses from Books makes a major contribution to our understanding of the built environment."
"While others have sketched the outlines of this history, Reiff's significant contribution is to show through daunting field research and meticulous library work how richly detailed and widely built these designs actually are."
"Daniel D. Reiff's Houses from Books is an excellent reference work that provides an accurate and comprehensive guide to house designs and domestic architectural styles in America from the 1730s to 1950s. The handsome, profusely illustrated quarto volume presents analyses of the theoretical literature that stimulated and supported each phase of domestic architectural history, provides abundant examples of actual houses in relation to their printed elevations and plan in architectural pattern books and house catalogs, and explains materials and methods of construction used by local builders and carpenters to realize actual houses."
"This thought-provoking book is a must for all reference libraries and an essential guide for anyone concerned with the history, historic significance, and preservation or restoration of the buildings in the thousands of historic districts listed on the National Register of Historic Places or yet to be listed. Even today's builders might learn about design sources and architectural literacy so lacking in today's house designs."
"Reiff's book, Houses from Books, is an excellent resource for people studying pattern-book houses. The multitude of examples included along with the vast number of illustrations make the book a valuable source for someone with an interest in the topic. The appendices included also provide many other sources of information for those with an interest in pattern books and their influence on architecture. In addition, the case study does a very good job of illustrating just how influential pattern books were on architecture in the average American town, and will hopefully spur others on to examining the architecture in their own backyards."
Daniel D. Reiff is Professor of Art History at the State University of New York College at Fredonia. His books include Architecture in Fredonia, New York, 1811–1997 (1997), Small Georgian Houses in England and Virginia (1986), and Washington Architecture, 1791–1861 (1971).