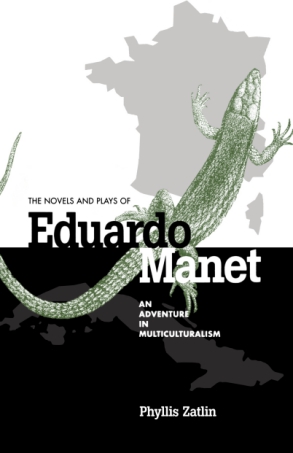 The Novels and Plays of Eduardo Manet
An Adventure in Multiculturalism
Phyllis Zatlin
Buy
The Novels and Plays of Eduardo Manet
An Adventure in Multiculturalism
Phyllis Zatlin
"Zatlin's excellent introduction to his work will bring Manet deservedly to a wider audience. She is balanced, informative, probing, and graceful in her assessment of Manet's comic and tragicomic writing."
Description

Reviews

Bio

Subjects
Despite Eduardo Manet's impressive accomplishments extending over half a century, this extraordinarily talented Cuban-French author remains relatively unknown in the United States. Phyllis Zatlin's book is the first to examine the multifaceted career of this dynamic bilingual writer.
Playwright and novelist, theater and film director, Eduardo Manet (b. 1930) has been a major participant in the cultural worlds of both Cuba and France. His works have been internationally acclaimed: he has been nominated for the Prix Goncourt and was awarded a special Goncourt youth prize, and his novels and plays have been translated into twenty-one languages. Manet's work, however, has often been overlooked by both French and Spanish-American critics because of his unique position as a Latin American writing in French. Zatlin sets out to correct this oversight by offering a detailed analysis of Manet's many genres and themes. She begins with his work in Cuba, from his youthful poetry and plays to the films he directed in revolutionary Cuba. She then examines his seven full-length novels, all written in French but typically reflective of Cuban experience. Finally, Zatlin concludes her study by considering Manet's early plays of entrapment and enclosure and his later theater, defined by its metatheatrical and multicultural themes.
Through the lenses of multiculturalism, postmodernism, metatheater, and farce, Zatlin provides a perceptive and comprehensive examination of this significant yet neglected figure. Zatlin's book will do the important work of introducing Manet to a North American audience.
"Zatlin's excellent introduction to his work will bring Manet deservedly to a wider audience. She is balanced, informative, probing, and graceful in her assessment of Manet's comic and tragicomic writing."
"Much more than 'an introduction to the multifaceted work of Eduardo Manet' (219), Zatlin's book is an invitation to correct the sad omission of Eduardo Manet from our Latin American and Caribbean literary and theatre studies."
Phyllis Zatlin is Professor of Spanish at Rutgers University. Her previous books include Cross-Cultural Approaches to Theatre: The Spanish-French Connection (994), Jaime Salom (1982), Víctor Ruiz Iriarte (1980), and Elena Quiroga (1977).