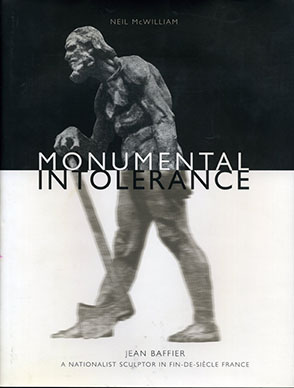 Monumental Intolerance
Jean Baffier, a Nationalist Sculptor in Fin-de-Siècle France
Neil McWilliam
Buy
Monumental Intolerance
Jean Baffier, a Nationalist Sculptor in Fin-de-Siècle France
Neil McWilliam
"Superb study of art and lost causes"
Description

Reviews

Bio

Subjects
Little known today, Jean Baffier (1851–1920) was never far from the headlines during his own lifetime. Born into a poor peasant family, he became a self-taught sculptor whose work ranged from decorative objects to portrayals of peasant life and public monuments. But Baffier would probably not have received wide public attention if he had not also become a folklorist, a promoter of regional culture, and a militant nationalist with beliefs so violent that he attempted a political assassination.
Monumental Intolerance explores the full gamut of Baffier's activities and shows that he was pursuing a vast scheme of national purification and rebirth. Neil McWilliam's discussion of the historical issues surrounding Baffier opens an extraordinary perspective on the culture wars and political struggles of a turbulent period in French history.
This book will interest the art-historical community and historians of fin-de-siècle France.
"Superb study of art and lost causes"
"As a historical study of an artist, rather than a purely art historical study, Monumental Intolerance makes an extremely important contribution to our knowledge of both art and politics during the Third Republic. McWilliam convincingly demonstrates how and why the career of Jean Baffier is of signal importance. This richly detailed and impeccably researched volume additional gives a view into Third Republic cultural politics that is as compelling as it is dispiriting. For McWilliam has documented the mechanics of ressentiment—resentment—which fostered the consolidation of right-wing factions in opposition to the secularism, internationalism and democrative aspirations espoused by the French left."
"A fascinating exploration of an almost wholly forgotten figure. . . . This is categorically not a conventional life-and-works approach to its subject, but rather an exercise in historical recovery."
Neil McWilliam is a Professor of the History of Art at the University of Warwick. His previous books are Bibliography of Salon Criticism in Paris from the July Monarchy to the Second Republic, 1831–1850 (1991) and Dreams of Happiness: Social Art and the French Left, 1830–1850 (1993).