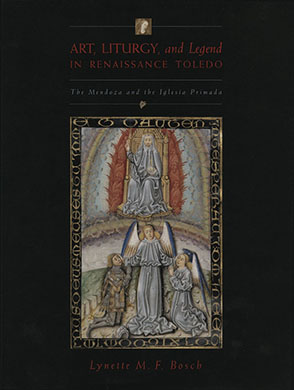 Art, Liturgy, and Legend in Renaissance Toledo
The Mendoza and the Iglesia Primada
Lynette M. F. Bosch
Buy
Art, Liturgy, and Legend in Renaissance Toledo
The Mendoza and the Iglesia Primada
Lynette M. F. Bosch
"The breadth of learning in this book is complemented by its subtlety of analysis. A landmark in the study of later fifteenth-century Spanish art, this book will also impact the study of late medieval and early Renaissance art."
Media

Description

Reviews

Bio

Subjects
Winner of the 2000 Eleanor Tufts Award for an Outstanding English Language Publication sponsored by the American Society for Hispanic Art Historical Studies
In
Art, Liturgy, and Legend in Renaissance Toledo
, Lynette Bosch examines liturgical manuscripts that members of the powerful Mendoza family commissioned for the cathedral of Toledo at a time when it was the symbolic center of the Spanish nation. Using patronage as a filter, Bosch relates the style, content, and function of these lavish manuscripts to the many-sided ritual life of the Cathedral and, beyond that, to its social and political role in efforts to forge Spanish identity in the midst of the
Reconquista.
Bosch's study shows that the patrons of the Toledan manuscripts were active proponents both of the Catholic monarchy and of an extraordinary hybrid culture. Although medieval legend and history are laced through this "caballero culture," Bosch breaks new ground by also connecting it to the taste and outlook associated with the Renaissance. Art, Liturgy, and Legend in Renaissance Toledo includes a complete catalogue of the Toledan liturgical manuscripts.
"The breadth of learning in this book is complemented by its subtlety of analysis. A landmark in the study of later fifteenth-century Spanish art, this book will also impact the study of late medieval and early Renaissance art."
"It makes an important contribution to our understanding of Renaissance culture."
"The manuscripts of fifteenth-century Toledo offer an impressively rich and still largely unexamined field for scholarly investigation, and Bosch's book provides it with a very welcome point of entry, one which will be valued by any serious student of Spain's medieval and Renaissance past."
"The volume is lavishly illustrated. It includes indexes on the types and dimensions of the manuscripts under consideration, along with the calendars of saints and feasts celebrated in Toledo during this period. It is a useful reference volume for the reader interested in this period and its later influence, and an invaluable illustrative volume on the Spanish Renaissance. The attention the author gives to political and liturgical developments enhances the usefulness of the artistic reflection in giving a wider view into Church and society during these formative years for the premodern Catholic world."
"The study is adorned with a wealth of illustrations, monochrome and color, and shows an impressive knowledge of art-historical scholarship."
Lynette M. F. Bosch is Assistant Professor of Fine Art at Brandeis University. Her book Ernesto Barreda: Contemporary Chilean Painter was published in 1996 by Morgan Press.